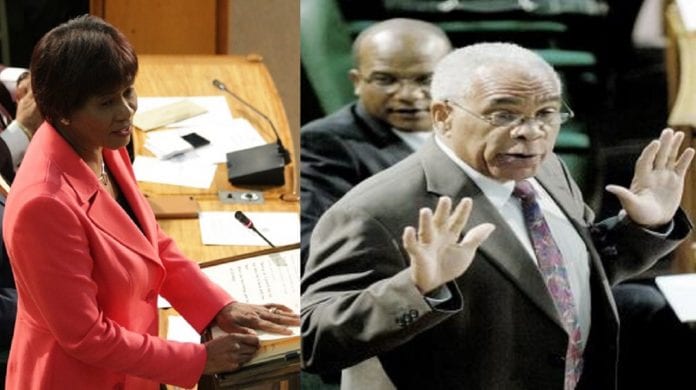 An era in Jamaican politics will end at the end of this month when two political stalwarts, former Prime Minister and leader of the People's National Party Portia Simpson Miller and her party colleague and minister in past PNP administrations, Dr. Omar Davies official resign their parliamentary seats.
Simson Miller previously resigned as PNP leader and Leader of the Opposition earlier this year. The resignation of both politicians will be effective on June 29.
Leader of Opposition Business in the House Phillip Paulwell announced yesterday that Simpson Miller and Dr Davies would both submit letters of intent to resign to Speaker of the House Pearnel Charles on June 29, effecting their formal resignation on the same day.
Paulwell noted that, in accordance with the nation's laws, such resignation letters, once handed to the speaker, become immediately effective.
"Today we are witnessing the beginning of a historical changing of the guard, when two sitting members of adjoining constituencies shall simultaneously take their bow on June 29, 2017, and so we wish them good health and strength in their retirement years," Paulwell said.
He added that, at a future date, Parliamentarians would pay tribute to both members, for their services to the people of Jamaica, the Parliament and the nation.
Simpson Miller, Jamaica's only female prime minister, first held that post for 18 months, succeeding former Prime Minister P J Patterson, who resigned during his third term in office in 2006.