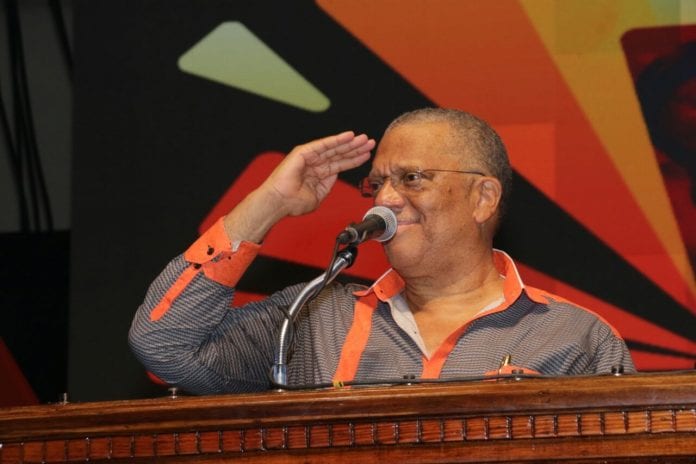 KINGSTON, Jamaica, CMC – The main opposition People's National Party (PNP) has moved to heal whatever rifts that may have occurred during the campaign for the leadership of the party, with re-elected leader Dr. Peter Phillips saying there would be no bloodletting.
Phillips, who fought off a battle from the former 59-year-old national security minister, Peter Bunting, to win the leadership battle by less than 80 votes, told a news conference that the aim now is to consolidate the opposition party as it gears to contest the next general election against the ruling Jamaica Labour Party (JLP).
"Having come through this campaign, we are mindful of all the issues raised during those 90 days, and in particular the clear message sent by the delegates [is that] 'we want a unified party.
"My opponent, Peter Bunting, and the comrades who supported him can be assured of my highest consideration and comradeship. Comrade Bunting and I held the first meeting yesterday at which we discussed a number of issues and we reaffirmed our commitment to cooperate fully for the success of the People's National Party," Phillips told reporters.
He said in the discussions with Bunting, both parties had agreed that they will name a team led by the respective campaign managers which will meet and resolve any issues which have the potential for causing conflict.
In addition, Philips said that each campaign is being dismantled and there will be no recrimination or victimization of any form even as the normal party functions.
"We both agreed that our supporters should desist from attacks on other party supporters on social media or otherwise and that the party's Code of Conduct and rules should be observed," Phillips said, adding that the party will conduct an internal investigation into claims of vote-buying and other allegations that surfaced during the bitter campaign.
Phillips, 69, who had first taken over the leadership of the PNP in March 2017, following the party's defeat in the 2016 general election, acknowledged that his campaign had been partly funded by donations from corporate entities.
He said also that individual PNP members and "persons all across the country" had contributed to the campaign, financially.
"Most of all, what I valued was the number of small donations that came from people all across the country willing to give a J$20,000 (One Jamaica dollar=US$0.008 cents) here, a J$10,000 there, a J$50,000 there who contributed the greater share of what came to our campaign", he said.
But while he was not able to disclose the total amount of funds spent on the campaign, he told reporters "I'm certain we still owe some".