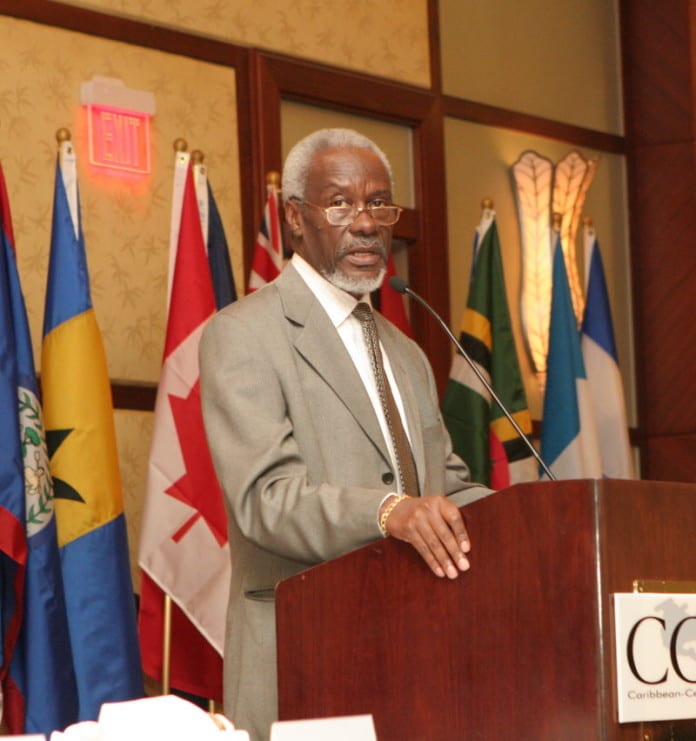 KINGSTON, Jamaica, CMC – Former Prime Minister P.J. Patterson has suggested that a National Security Commission be established by the current administration in an effort to fight crime and violence.
Patterson, made the suggestion last Saturday addressing members of the Lay Magistrates Association of Jamaica at a banquet in New Kingston.
Patterson, who served as prime minister from 1993-2006 said  the creation of a such a commission would help bridge the partisan divide.
"I firmly believe the creation and nurturing of a National Security Commission is the most constructive way to secure and build national consensus in order to fashion a common design and bridge the partisan divide, without which we will always be prone to scoring political points and never permanently curtail the menace of violent crime," he said.
Similiar to Electoral Advisory Commission
According to Patterson the model used for the Electoral Advisory Commission (EAC), is one that "must be the kernel in the fight to combat excessive crime and wanton violence, which not just today but during the life of past administrations, including my own, constitutes the greatest threat to our society and its prospects for prosperity."
"I believe the time has come for the constitution of a single body, appropriately tailored by the sartorial pattern of the EAC model that would eventually incorporate a range of wide-ranging functions now spread across the Police Services Commission, the Office of Complaints Authority, INDECOM, and a myriad of related groups — consisting of three independent persons chosen for their expertise by the governor general after due consultations, with one person nominated by the prime minister and one by the Leader of the Opposition," Patterson said.
Citing a precedent for state of emergency extensions, Patterson said that only legislative action which requires a "stipulated timetable" can remove constitutional and institutional restraints. 
He added that an organization, similar to the EAC,   could guide the initial process, and like the electoral commission, would only acquire full commission status for aspects of national security in an agreed parliamentary time frame.
"We could use the precedent of Section 67 in our constitution that provides for a Standing Committee of the House, chaired by the Speaker, to delineate constituency boundaries, but since the birth of the Electoral Advisory Committee, these are acted upon in accordance with their recommendations."
Government would retain power to declare SOE's
However, he said the Government would retain the power for the original declaration of a State of Emergency.
The EAC practice could be applied to matters pertaining to their extension. Extensions would be first considered by such a group and their recommendation then approved by recourse to Parliament in accordance with the existing legislative requirements for extensions. 
The former Prime Minister said this would allow for certainty, where required, and avoid the danger that a state of emergency was being extended or curtailed for partisan political reasons.