This week, 27-year-old Trinidad and Tobago youth leader Nikoli Edwards made waves when he launched a new political party in Trinidad and Tobago.
Edwards, who is a politician and political activist, says he has been asked to join the country's established political parties, but did not make a commitment because his values are not in alignment with either party. However, he has built the newly launched Progressive Party under the guidance of his own moral compass.
According to Edwards, the Progressive Party will focus on border protection, safe living environment, security, health, food security and economic growth.
"We are not here to play games, as that has been our reality for far too long. We are a serious party with serious supporters who are serious about the people of our country," he told reporters earlier this week.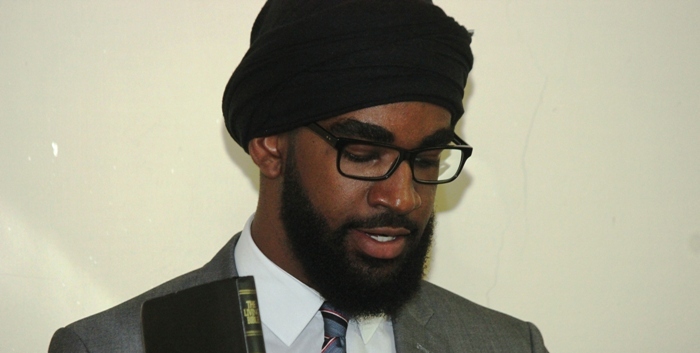 Born and raised in San Fernando, Edwards also says he is passionate about reformation of the criminal justice system and the advancement of youth across the globe.
Edwards links his passion for criminal justice reform to the tragic passing of his father, who, after escaping prison in 2015, was found dead – his body riddled with bullet wounds. This was one of the darkest moments of Edwards' life. He believes that if the criminal justice system offered his father greater support, he would not have died. However, rather than stand back and critique the system's flaws, Edwards made a conscious decision to use his voice, and life, as a positive force for change.
As a staunch youth empowerment advocate, Edwards believes it is imperative that youth be brought in to high level decision-making. Last year Edwards told the audience at a sexual and reproductive rights event, "We need to mainstream young people into the decision-making process… Where it's not a matter of, 'let's bring a young person into the room as an afterthought,' but it should be written that a young person has to be a part of the discussion or has to be contributing in a significant way."
In 2015, Edwards was elected to the Commonwealth Youth Council where he held the post of Vice Chair of Policy, Advocacy and Projects. The council serves 1.2 bil­lion young peo­ple across the Com­mon­wealth. By 2016 he found­ed the Trinidad and To­ba­go Youth Con­ven­tion, which highlights youth achievements and challenges, and presents opportunities to shape youth-focused national policy.
An ambitious, and arguably audacious political leader, Edwards also holds the title of youngest in several arenas.
In 2017, Edwards became the youngest elected independent member of the country's senate, and is also the youngest member of the Procurement Board of Trinidad and Tobago. Steadily climbing his way up the ladder of success, by 2018 Edwards landed Trinidad and Tobago's National Youth Award for Youth Activism.
"I have al­ways been pushed by friends, fam­i­ly, young peo­ple and just mem­bers of the pub­lic who have heard me speak—to 'hur­ry up and get in gov­ern­ment' to be able to put my so­lu­tions for na­tion­al de­vel­op­ment to work," Edwards told Trinidad's Guardian Media earlier this year.
For Edwards, life in the public sphere seemed to be long in the making. He has worked in both pri­vate and state me­dia, and is a go-to, recognized social and political com­mentator. He also studied communications and theater arts at the University of the West Indies.
"Our pre­rog­a­tive isn't to sim­ply re­move a gov­ern­ment. That's short term think­ing. We want to pro­vide the best rep­re­sen­ta­tion pos­si­ble. We want to unite this coun­try and we want to en­sure that this na­tion's pros­per­i­ty is felt by all, not just some, but by every sin­gle cit­i­zen who has the ho­n­our of call­ing this place home," Edwards stated about his Progressive Party's mission earlier this week.