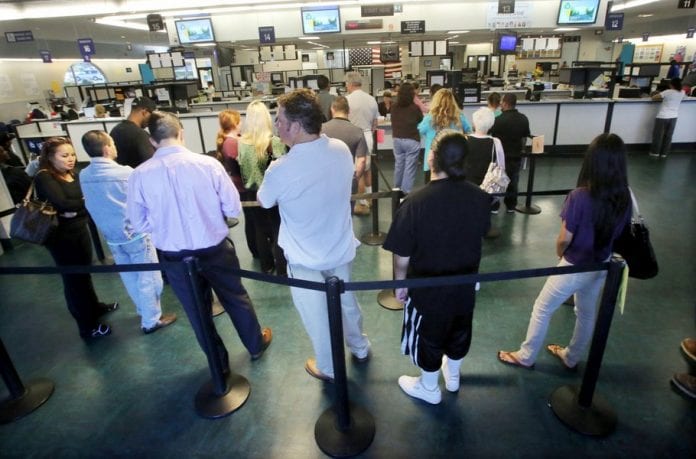 Motorists frustrated by delays in renewing Florida driver's licenses/vehicle registrations
Recently, some South Florida motorist have complained of delays the have gone through while getting their vehicle registration and/or their driver's license renewed.
Checks with the Florida Department of Highway Safety and Motor vehicles (DHMV) found that the motorists' complaints were valid. The delays are due to a faulty computerized database system.
Terry Rhodes, executive director of DHMV admitted the database system which houses information of millions of Florida motorists is aged. The agency is aware of the situation and trying to fix it. He said the agency received some $8 million from the Florida Legislature earlier this year to upgrade the system, and the agency is currently collaborating "every day" with the Agency for State Technology on the upgrades. The not-so-good news is that the system's upgrade isn't expected to be completed until June 2017.
Tamara Lewis, a clerk at a DMV office in West Kendall, explained the database system "is crucial" to renew driver's licenses and motor vehicle registrations. "The renewal applications we obtain have to be matched with the motorist's information that's already stored in the database. If we can't access the database, we can't complete the renewals." She said the breakdown in the database system happens "at least once a week. She called these breakdowns "sporadic, and bad timing, usually when there's a rush to conclude renewals, creating delays for motorists."
Another report said the database system has broken down "on average, once every four days between April 1 and Sept. 30 of this year."
Anthony Porter of Sunrise was one of several motorists who experienced delays in renewing his truck registration on October 21. "It took me almost a half day to get the registration completed, because the computer was down, when it usually took about 30 to 40 minutes in the past when I went to renew my vehicle's registration."
Lewis admitted that on October 21 the database system "was down for some time."
Not only is the HDMV system used to store data on motorists and is key to renewing their driver's license and  vehicle registration. It's also a very critical tool in verifying and storing data related to Florida's registered voters, and enables voters to provide valid driver's licenses as an ID when voting. Information from the HDMV database is also used to Identify people for state benefits such as food stamps.
On contacting the Supervisor of Election Offices in South Florida there were no indications the problems with the database system had negative effecs on either the verification of data to complete recent voters registration, nor affected voters who use their driver's licenses for identification during early voting.
The problems with the renewal of driver's licenses and vehicle registration not only affects motorists who visited DMV offices but some who tried to process their renewal online.
"We really hope the system is fixed way before next June," Lewis said, "The delay in processing renewals isn't fair to motorists nor employees."