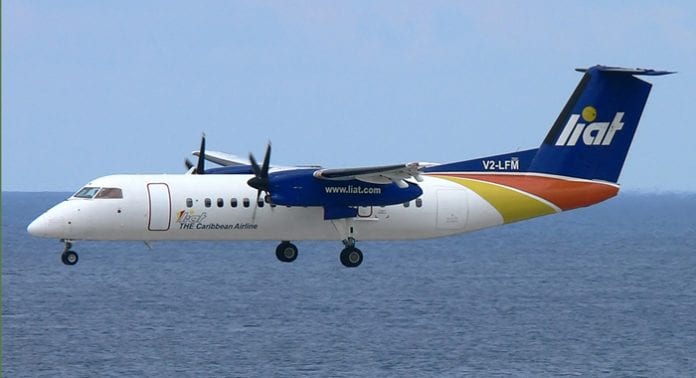 BRIDGETOWN, Barbados – The Antigua and Barbuda government has unveiled a reorganization plan for the cash-strapped regional airline, LIAT, even as a last ditch meeting of shareholder governments scheduled for later on Monday does not appear to shift the position being adopted by Barbados, the carriers, largest shareholder.
Prime Minister Gaston Browne, speaking on the eve of the meeting, said he has been informed that Barbados Prime Minister Mia Mottley is not supportive of any plan to reorganise the airline that owes millions of dollars (One EC dollar=US$0.37 cents) to creditors and faces the possibility of being liquated.
The other major shareholder governments of the airline are St. Vincent and the Grenadines and Dominica.
"Even though our request for a meeting last Monday represented a reorganisation effort and I as denied on the basis that I was told by Prime Minister (Dr. Ralph) Gonsalves (of St. Vincent and the Grenadines) that the Prime Minister of Barbados indicated that she had no interest in our reorganizational plan.
"I am also told to that even though there is a meeting scheduled for Monday that she still has no interest in any reorganizational plan, but I still remain hopeful that I will be able to convince her otherwise".
Dominica's Prime Minister Roosevelt Skerrit, who said he would be participating in Monday's meeting, said his administration is open to the reorganise of the airline, which has served the region well in the past.
"As you are aware the shareholders of LIAT late last month took a decision to liquidate the airline. In Dominica we are currently exploring various options for travel for our citizens. Yet there are outstanding matters to be ironed out and a proposal is on the table to reorganise LIAT.
"Dominica is open to an assessment of this proposal to determine if the plan to restructure the company and to restore its viability is feasible. As I have said before we recognise the important role that LIAT has played in the region since its inception (and) despite its various challenges it has served the people of the region well and if a reorganised LIAT can continue to provide service we are open to this discussion".
Skerrit said the principle objective for this government is "to identify safe and reliable transport for our citizens.
"We will make these decisions that are in our best interest to ensure your ease of movement and most importantly your safety," he told the Dominican public.
Browne said that should the regional efforts to save LIAT fail, his administration is prepared to take whatever measures it considered to be necessary to ensure the airline is not liquated.
"Now in the likely or unlikely event that those discussions fail, Antigua and Barbuda will have no choice but to move immediately to take defensive action to protect LIAT from any brutish aggression to destroy it.
"But I hope it doesn't get to that stage, I hope that we will understand that LIAT is such an important regional institution, that we should resist the urge or any urges that we may have to destroy LIAT and even though the odds are stacked against it, and even though we can't guarantee success, as far as we are concerned we are going to continue to fight to save LIAT," Browne said.
According to the new reorganizational plan, a copy of which has been obtained by the Caribbean Media Corporation (CMC), Antigua and Barbuda is proposing re-investment of EC$108 million. With St. John's indicating that under the new plan it is prepared to underwrite up to 50 per cent of the required capitalization.
"The new capital invested during reorganization will be protected, in that it will rank in priority above all other creditors in the unlikely event of liquidation," it said, noting that the remaining EC$54 million to be shared by other private and public sector entities, including existing shareholder governments.
The Browne administration argues that
However, the Antigua plan said if the existing shareholder governments are not interested in investing in the reorganized LIAT, they will be requested to surrender their shares for EC$1.00, which it claims is a superior offer to what they would get in liquidation.
"As far as practicable, the private sector should be encouraged to participate in the recapitalization and directorship of LIAT. Private sector ownership and participation is desirable and would bring a greater focus on commercial operations of LIAT and profitability."
The plan also notes that LIAT, after it returns to good financial health, is to offer jet services out of Miami on a wet lease of two jet aircraft, should necessary feasibility studies confirm that such services would be profitable.
The plan indicates that the jet service could also open up new markets that connects the Caribbean and Latin America to include Panama to facilitate inter-regional movement of people and goods.
"A double travel and logistics hub will be operated with Antigua in the North and Barbados in the South. All routes flown will be based on profitability and unprofitable routes will only be flown if supported by an MRG."
The plan also takes a swipe at what it termed LIAT's work culture, which it said has not been exemplary, thus leading to poor service quality and reputational damage.
"While this culture is not practiced by every employee of the airline, it is known to be prevalent among many. Employees who have records of high absenteeism and poor work ethics will not be rehired.
"Further, work ethic, performance related pay and other programs will be introduced, in rebuilding a healthy organizational culture, based on good service quality and efficiency."
The plan also contains a strong warning for stakeholder governments who are pushing for liquidation of the regional airline.
"If shareholders pursue the piecemeal liquidation of LIAT and fail to work out a plan with creditors and employees, the liquidation will not only be disorderly, but shareholding governments may be confronted with litigations, totalling hundreds of millions of dollars and tens of millions in legal fees," it noted.
The Companies Act of Antigua and Barbuda allows for the appointment of an Administrator, who will be the sole representative of the LIAT estate. All decisions involving the affairs of LIAT would be taken exclusively by the administrator and not the directors, or shareholders.
The main responsibility of the Administrator would be to reorganize the company, by cutting liabilities and realigning expenses to make. The Administrator would have full powers to negotiate terms with creditors, including agreement to reduce sums payable.
Creditors, including the staff of LIAT, would benefit from the Administrator's obligation to pay them a minimum of what they would get in the event of liquidation.
"It means therefore, that orderly arrangements could be made from which LIAT 1974 Ltd, as a company, its shareholders, creditors, and staff would all benefit from an orderly plan. Under such a reorganization, creditors stand to recover funds and shareholders will have a viable entity to provide both utility and profits." According to the plan.
CMC