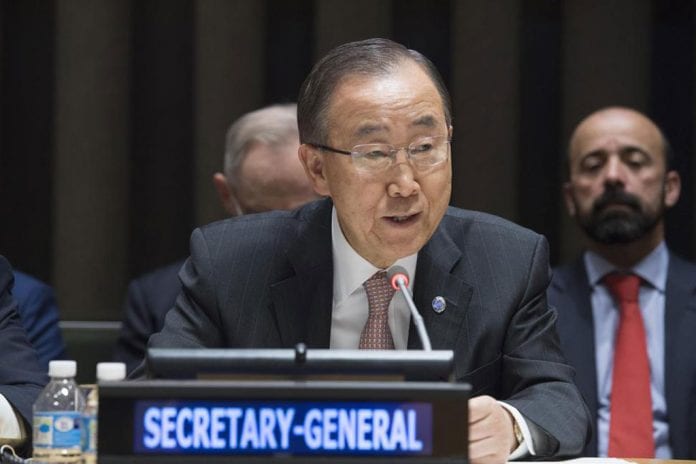 At Last! UN General Secretary apologies to Haiti for Cholera epidemic
Since a cholera epidemic broke out in Haiti shortly after the devastating 2010 earthquake, Haitians have pointed their fingers at United Nation peacekeepers originating from Nepal as the source of the epidemic. Persistently, Haitian officials have called on the UN to acknowledge that the peacekeepers were the source of the disease, apologize for this unfortunate situation, and make financial restitution to the country to enable it to effectively fight the disease. However, the UN through its chief UN Secretary Ban Ki-Moon neither apologized or acknowledged for, or that, the UN peacekeepers were responsible for causing the cholera outbreak that has been responsible for the death of over 9,000 Haitians.
However, on Thursday, Ban who will soon be demitting his 10-year tenure as UN chief, finally apologized in a live broadcast to Haitians from his offices in the UN. In the broadcast Ban said, "On behalf of the United Nations, I want to say very clearly: We apologize to the Haitian people …..We are profoundly sorry for our role." He also  acknowledged the UN had not done enough regarding  the cholera outbreak and its spread in Haiti.
Although the UN Secretary general did not give any firm indication the UN would in the future provide the $400 million Haitians are seeking to combat and eradicate cholera. And compensate the families of the victims of the  disease he did say, "I keenly recognize the financial pressures that you face — indeed, that we all face," Ban said. "I understand the reaction of being overwhelmed by what seems to be a never-ending list of pressing humanitarian needs around the world."
Ban reiterated plans outlined in a UN report to eradicate cholera in Haiti. The plan, to be funded through a public=private partnership including funding from the World bank and the IDB, includes intensifying rapid response teams, strengthening epidemiological surveillance, rapid detection, reporting and treatments of cases by mobilizing adequate funding. Other aspects of the plan include combining cholera vaccinations with water and sanitation interventions, more focused geographical targeting and strengthened support for longer-term water and sanitation services.
The long-term aspect of the plan involves providing Haitians in urban and rural area with adequate clean water supply and improvement of the nation's sanitation infrastructure.