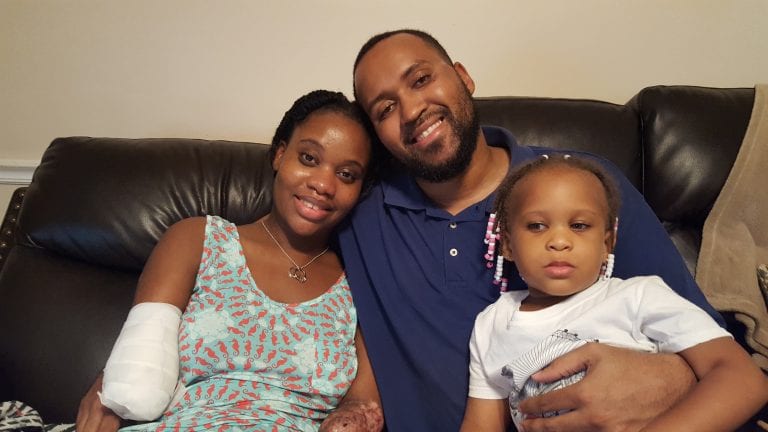 In the spring of 2017 Kayleigh Ferguson Walker and her husband Ramon were living like other millennia couples in South Florida. The Coral Springs couple was eagerly expecting their second child, a son, and very happy as a family. But, then fate intervened and changed their lives drastically.
In March of 2017, Kayleigh was in the second trimester of her second pregnancy when she was suddenly hit with strange symptoms, including a persistent high fever. Her husband decided to rush her to a hospital emergency room. There Kayleigh said things began to deteriorate rapidly.
In coma for two weeks
She told a press conference held at Joy's Roti Delight Cafe in the Lauderhill Mall last week that although "The nurses responded very quickly, and they took me in a room my breathing was depleting."  Eventually she slipped into a coma in which she remained for two weeks, during which she lost her baby.
Kayleigh was diagnosed with the dreaded infectious disease called Sepsis, a general term used to characterize an immune system response to an infection. A  viral, fungal, or bacterial infection of the lungs (pneumonia), kidneys, bloodstream (bacteriemia), or abdomen can lead to sepsis. This potentially life-threatening condition is considered a medical emergency, and affects over 200,000 Americans annually, some resulting in death.
Legs and arms amputated
When Kayleigh emerged from the coma, she was made aware of the gravity of her condition. She was told the infection had created blood circulation problems in her arms and legs, and the only way her life could be speared was by amputating both arms and both legs.
This is a problem that has faced other patients diagnosed with sepsis and has proven a very hard decision for both the patient, and the patient's family. How can one continue living without arms and legs? How can one cope? But what is the alternative?" Certain death. Kayleigh, along with her husband, chose life. ""In the end, it was between my limbs and my life," she said.
So, along with much prayers among Kayleigh, her husband, other family members and friends Kayleigh agreed to, and underwent, the amputation surgeries.
She said throughout her ordeal, she remained positive and determined to live with hope, and live positively.
After surgery, as the doctors had indicated, the infection abated, but she was faced to endure long, ongoing physical therapy. To make it more challenging, she was   permanently unable to ever hold hands with her husband or caress her young daughter's face again.
Challenged to do normal things in a new way
"My biggest challenge has been finding a way to do things, finding a new way, trying to take care of my daughter, Aaliyah, clean her face, help her with her clothes," Ferguson-Walker said. 
Kayleigh gives her husband strength
But she has persevered and continues to heal with the help and full dedication of her husband, Ramon. He told the press conference after seeing what his wife has gone through and her determination to survive and cope, he is "super inspired by her…..When I look at my wife and see her situation, it gives me strength, helps me continue as a husband and father."
Now Kayleigh is ready to share her amazing story with the world, while seeking her community's support. Although she has not lost spirit, she has come to the practical realization that she needs help to live as normally as possible. To do this she needs special living accommodations.
Recently, a special campaign was established on her behalf – known as the "Kayleigh Ferguson-Walker Homebuilding Fund" – to raise funds through charitable donations to pay for an ADA-compliant, one level, Ranch-style house to accommodate Kayleigh and her small family. The home will be equipped with "Smart Home Technology" to allow her to control most things inside of the home with the simple use of her voice commands and is estimated to cost $400,000.
The fund-raising effort to acquire the house was launched at the press conference at Joy's Roti Delight Café on December 4 and raised over $4,000.
The Lord is her strength
Kayleigh is cognizant that "there are ways to go" to raise the total amount to move into the ADA-compliant home which she said "will help me to do more as a wife and mother," but acknowledged her "faith is undaunted. Leaning on the Lord is my strength."
Seeing how confident Kayleigh appears in spite of her adversity and how she is determined to live the life she has been is an inspiration for the wider community to help her, especially over this generous season of Christmas.
Donations can be made by accessing: https://fundly.com/the-kayleigh-ferguson-walker-home-building-fund