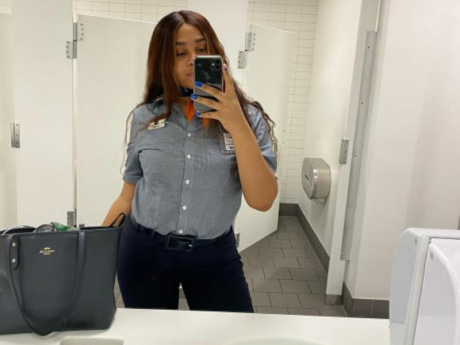 JetBlue has issued an apology to the people of Jamaica and launched an investigation into claims made by one of its employees, Kalina Collier, who alleged that she was being held hostage at a hotel in Jamaica.
Collier's story gained worldwide attention after she convinced hundreds of thousands of social media users that she was in danger at the Ocean Coral Spring Hotel in Trelawny.
Collier, a JetBlue flight attendant, claimed that "wicked people" at the hotel falsely stated that she had COVID-19. She also said that she was being held against her will and urged her followers to contact the US embassy and news stations in New York to get her help.
Jamaica authorities, including the police force, the ministries of tourism, and foreign affairs later stated that her claims were "baseless" and that she was never in any danger.
In a statement, Jamaica's Tourism Minister, Edmund Bartlett confirmed that the American had twice tested positive for COVID-19.
"In preparation for her departure, Miss Collier tested positive twice for COVID-19 and was not abducted but being quarantined in her hotel for 14 days, which is in keeping with internationally accepted COVID-19 protocols. Miss Collier and her family have been in constant communication with representatives from my Ministry, as well as representatives from the Ministry of Health, the Jamaica Constabulary force and the Hotel. I join the call by the police who are warning people to desist from sharing misleading social media posts claiming Miss Collier has been kidnapped, as sharing false information can constitute an offence under the law," Bartlett's statement read.
View this post on Instagram
In the meantime, Derek Dombrowski, a JetBlue spokesman, said the airline is aware of reports that Collier had been required to quarantine and is investigating her claims.
"We deeply apologize to the people of Jamaica and the Jamaican government for the concern and frustration this incident has caused. We have full confidence in Jamaica's health protocols and it is important everyone follows the rules," Dombrowski said in a statement Monday.
"We hold each JetBlue crewmember to the highest standards when it comes to personal integrity and we are conducting an urgent investigation into the actions of our crewmember."
Collier arrived in Jamaica on January 28 and was allowed to leave the island on February 14 after completing the mandatory quarantine. JetBlue also said she has been suspended from work.
*This story has been updated.