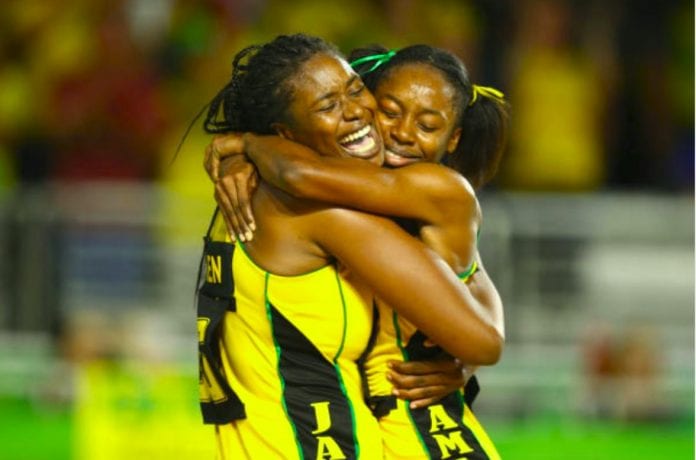 Jamaica gave New Zealand its lowest finish at the Commonwealth Games in Australia, brushing them aside 60-55 to collect their second straight bronze medal on Sunday.
The Jamaicans lead 15-11 after the first period and 29-17 at the half-time break, but fell behind momentarily three minutes into the third quarter before responding with some inspired defense to draw away to a 46-39 advantage at the end of the penultimate stanza.
The White Ferns came roaring back in the final quarter however, and came to within four with 5:12 to play, but the Sunshine Girls held their nerve to pull out a comfortable victory at the Coomera Indoor Sports Centre.
Veteran Romelda Aiken scored 24 goals from her 31 attempts for 77 per cent shooting, team captain Jhaniele Fowler-Reid added 21 from 22 and goal attack Shanice Beckford provided valuable support with 15 from 18.
The result was tacit consolation for Jamaica following their heart-breaking loss against England in the semi-finals on Saturday.
But it consigned the once high-flying White Ferns to their fourth loss in the GC2018 tournament, as they missed out on the final for the first time since the sport was introduced at the Games two decades ago in Kuala Lumpur, Malaysia.
The Jamaicans were more efficient in converting their turnovers in the first quarter in contrast to the New Zealanders, who struggled to make any gains and too often lost possession on transition.
The Games ended on Sunday with Jamaican earning a record 27 medals – 7 gold, 9 silver, and 11 bronze, to finish 11th on the medal table.
Trinidad and Tobago gained 3 medals (2 gold and a silver) to place 18; The Bahamas placed 21 with a gold and 3 silvers); Grenada placed 25th with one gold and one silver; Bermuda, British Virgin Islands, Guyana and St. Lucia tied for 26th place win one gold medal each; and Dominica 33rd with 1 silver and 1 bronze medal.