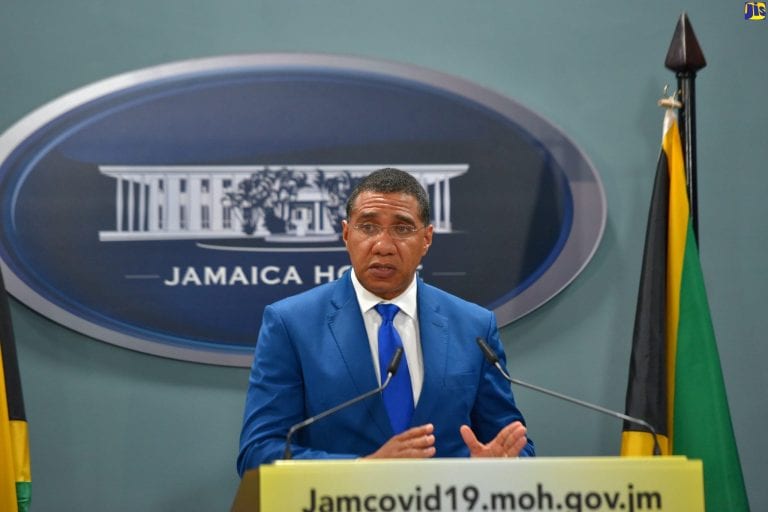 After Jamaica's Tourism Minister Ed Bartlett announced that all tourists travelling to Jamaica will be tested, Prime Minister Andrew Holness has sought to clarify the travel protocols as the country reopens for tourism today.
Speaking at a digital press conference over the weekend, Holness said that tourists will only be subject to testing if they are assessed as high risk.
Visitors from North America, the United Kingdom, Central America and South America are classified in this category.
According to Holness, this determination will be made after health authorities ascertain whether the visitor is coming from countries designated as high risk for COVID-19 transmission. This is based on World Health Organization classification or other risk factors such as exhibiting of symptoms or exposure to persons in high-risk groups.
"Persons assessed as high risk will have their samples taken at the airport or other designated facility and await their test results at their hotels or resorts, under the Stay in Zone measure," he explained.
"If the test is negative, they would remain under the Stay in Zone measure. If the test is positive, however, they would be isolated, either at the hotel resort or in a government facility as determined by the health authorities," the prime minister added.
Holness said that tourists not assessed as high risk will be allowed to go to their hotels or resorts under the Stay in Zone measure, under which they are required for the duration of their stay in Jamaica, to remain within the COVID-19 resilient corridor, which spans West End Road in Negril and continues along the North Coast Highway to Port Antonio in the east.
As for reentry, Holness said two different portals for entry application have been set up on jamcovid19.moh.gov.jm and on visitjamaica.com.
"Residents of Jamaica, being both nationals and non-nationals, who are ordinarily resident in Jamaica should apply to obtain a travel authorization document on jamcovid19.moh.gov.jm," he said.
"This includes non-nationals who live here, as I've said before, as a result of owning a work permit, marriage or being dependents of Jamaican nationals or just living here over an extended period," Holness added.
As for non-residents who are visiting Jamaica for tourism or business, they will need to apply for travel authorisation on visitjamaica.com, the official website of the Jamaica Tourist Board, or be denied the opportunity to board their booked flights on the day of travel.
"The travel authorisation is not required to book your flight to Jamaica. It is however a requirement at check-in and boarding, and the airlines will not allow passengers to board without presenting their travel authorisation," he warned.
He added that all persons will be required to go through a sensitization programme that will advise them of the various infection prevention protocols within Jamaica, such as hand washing and sanitizing, wearing of masks, social distancing, gathering restrictions and curfew hours among others.