KINGSTON, Jamaica – Newly paved roads, thousands of loyal supporters, dignitaries, entertainers, and a 19-round gun salute were all to celebrate the life and legacy of the Most Honorable Edward Seaga.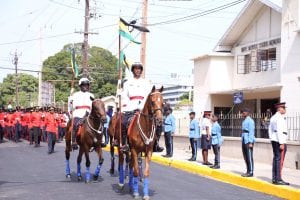 On Sunday, June 23, Jamaica's fifth Prime Minister was laid to rest at the Cathedral of the Most Holy Trinity in Kingston, Jamaica. The service started at noon, with special guests and officials taking their seat in the church to pay their last respects.
The funeral was officiated by thirteen ministers of religion which included Bishop Anthony Cousins of the Afro Christian Revival Church, Israel Pinchas of the United Congregation of Israelites, and Sheik Musa Tijuana, leader of the Islamic Council of Jamaica.
The funeral also attracted several local and regional dignitaries and heads of government, including the premier of The Cayman Islands, Alden McLaughlin; former Prime Minister of Barbados Owen Arthur; Belize Deputy Prime Minister Patrick Fabre; and Sharlene Cartwright-Robinson, premier of Turks and Caicos.
Also in attendance was Prime Minister of Jamaica, Andrew Holness who lauded Seaga as a "visionary" and "big thinker". During his tribute, he stated that Seaga recruited him while he was a student at the University of the West Indies and during that time, he learned of Seaga's pragmatic approach to development and economic policies that many have praised him for.
Similarly, former Prime Minister of Jamaica, Percival James Patterson hailed Seaga for his instrumental developments to Jamaica's sports, culture and music industries. Patterson stated that while they were political rivals, Seaga was a "titanic warrior" who had the will to succeed at whatever he did.
Other meaningful tributes came from Prime Minister of Grenada, Keith Mitchell; Seaga's cousin, Metry Seaga, and the Member of Parliament for West Kingston, Desmond McKenzie.
After the funeral, a sea of green flooded the National Heroes Park as scores of supporters gathered to say goodbye to their beloved leader. Fifteen wreathes were laid by officials, regional leaders and members of parliament which included Governor General Sir Patrick Allen, Prime Minister Andrew Holness, Mr. Seaga's widow, Carla Seaga, and Opposition Leader Dr. Peter Phillips.
Regional leaders, Grenada's Prime Minister Dr. Keith Mitchell, Turks and Caicos Islands Premier Sharlene Cartwright-Robinson and Premier Alden Mclaughlin from the Cayman Islands also laid wreaths.
Seaga's final resting place is in the National Heroes Park. His tomb lies almost opposite to the tomb of the man he succeeded as leader of the Jamaica Labour Party in 1974, the Most Hon. Hugh Lawson Shearer. The vault with Mr. Seaga's remains has been prepared to also house his widow when she passes.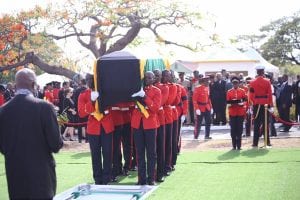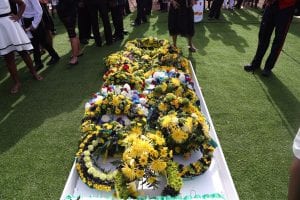 Edward Seaga died in Miami, Florida on his 89th birthday, May 28, 2019.