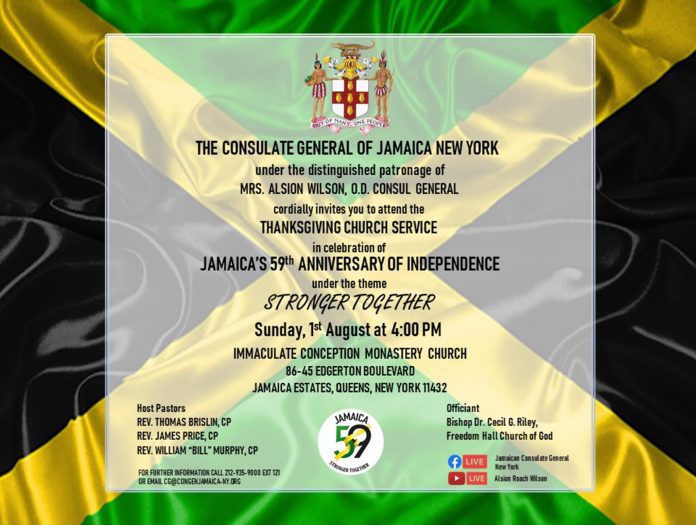 The Consulate General of Jamaica in New York will host its Annual Thanksgiving Church Service on Sunday, August 1, to commemorate Jamaica's 59th Independence Anniversary.
The ceremony will take place at the Immaculate Conception Monastery Church, 86-45 Edgerton Blvd, Jamaica, NY, 11432, beginning at 4:00 PM.
For this year's Independence, which will be celebrated under the theme "Stronger Together", Consul General Alsion Wilson has invited the participation of Senator the Honourable Leslie Campbell, Minister of State in the Ministry of Foreign Affairs and Foreign Trade with portfolio responsibility for Diaspora Affairs.
Campbell says he is looking forward to engaging with our Jamaican Community on his first working visit to the United States. By fostering meaningful relationships within the community, he hopes to forge lasting partnerships, especially as we seek to build back better, stronger together, from the pandemic.
Other high officials will include Senator Councillor Delroy Williams, His Worship The Mayor of Kingston and Mr. Robert H.P. Hill, Chief Executive Officer (Town Clerk), Kingston & St. Andrew Municipal Corporation (KSAMC).
Both the State Minister and the Mayor of Kingston are expected to meet with Community Leaders and Elected Officials during their working visit to the United States.
Delivering the sermon will be Rev. Richard Griffiths of Bronx Bethany Church of the Nazarene. Host pastors will be Rev. Thomas Brislin, Director, CP; Rev. James Price, Pastor, CP; and Rev. William Murphy, Senior Priest, CP. Bishop Dr. Cecil G. Riley of the Freedom Hall Church of God will serve as the Officiant.
Another specially invited guest is Dr. Sandra Lindsay, who was recently given the U.S. Citizenship and Immigration Services Outstanding Americans by Choice recognition by President Biden, on account of being the first person to receive the COVID-19 vaccine in the US. Jamaican-born Lindsay is a long-time resident of New York.
All Jamaicans who have not yet confirmed their attendance to kindly RSVP at the following website:
http://events.r20.constantcontact.com/register/event?oeidk=a07ei7bpukeaafb6aad&llr=yddbjkcbb