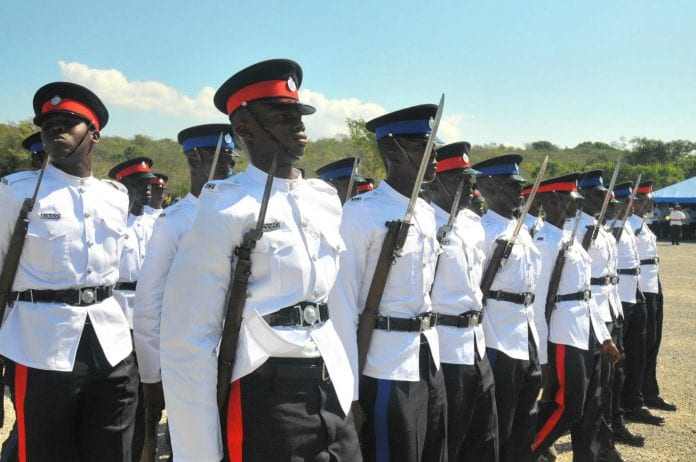 Prime Minister Andrew Holness has told police officers that he is dealing with the issues raised by them in their wage negotiations and that he has been holding discussions with Finance Minister Audley Shaw and National Security Robert Montague.
Late last month, the Police Federation  – that represents the rank and file policemen and women, said it sent two letters to Holness urging his intervention in the negotiations after the cops rejected a two-year six per cent wage offer from the Ministry of Finance.
The Federation had described the offer of four per cent increase in the first year and two per cent in the second year as "unacceptable".
Discussions ongoing
Holness has assured the Federation that he has been discussing the issues raised in the letters with Shaw and Montague, noting "however, a much broader discussion with the Cabinet and the Ministry of Finance is necessary, given the far-reaching implications of the issues to be addressed.
The Prime Minister said the Cabinet "will give further consideration and advice to the minister (of finance and the public service) and his negotiating team while making reference to the "delicate state and stage of Jamaica's economic recovery.
"While the economic signals and prospects are all pointing in the right direction, our present action will determine whether or not we stay on course to recovery. It is in our collective interest to ensure that Jamaica stays on the right track," Holness said.
The prime minister said he understood and appreciated "the challenges, personal sacrifice and ultimate danger" with which the police must contend in fighting crime.
"The Government of Jamaica highly values the service and contribution of our policemen and women in providing security for the nation, which is a prerequisite for economic growth and job creation.
"We respect the important role played by the Jamaica Police Federation in advocating for the welfare of our police officers," he added.
Members of the JCF have been reporting for duty after earlier reporting sick for work. At the height of the sick out, an estimated 2,730 officers stayed away from work, but the figure has since been reduced to 1,712.
The unions are seeking pay increases totalling 60 per cent over the 2017-19 period.