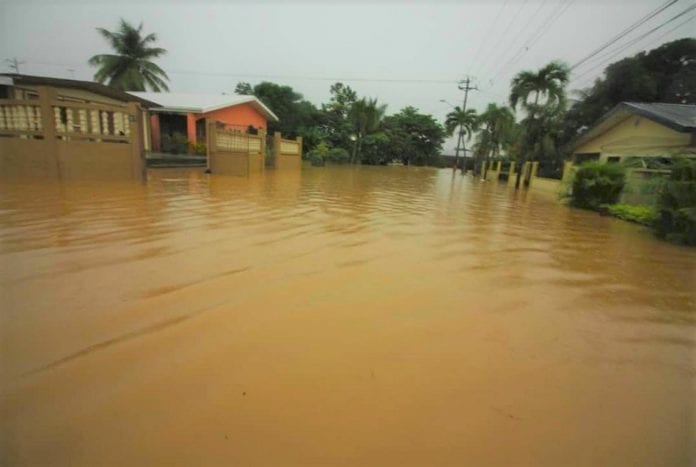 Over the past weekend, residents in Trinidad and Tobago have battened down for heavy rain as the country continues to deal with adverse weather conditions. At least 296 millimetres (mm) of rainfall fell over a 24 hour period from Saturday to Sunday.
The rain, which has been pounding the oil rich twin island republic since Thursday as a result of interaction between a low pressure system and the  Inter-tropical Convergence Zone (ITCZ), have caused widespread flooding across the country, shutting down highways and causing rivers to overflow their banks.
National disaster
Prime Minister Dr. Keith Rowley who on the weekend, declared that the flooding nightmare that has left thousands marooned is a "national disaster."
Just before 10 a.m. on Saturday, Oct. 20, the Prime Minister via his Facebook page stated that it is going to cost a lot of money to bring relief. He also condemned acts of looting during this disaster. "This is a national disaster, the flooding is quite widespread and quite severe and it is going to cost a lot of money to bring relief to people who have been affected. Notwithstanding whatever shortages we are experiencing we will have to find the resources to help."
During a press conference on the weekend, the Prime MInister said he will approach the Cabinet to get approval for funds to deal with the disaster.
And another earthquake
Meanwhile, as rains continued, the country was rocked by an earthquake.
The quake, with a magnitude of 5.1 was felt in sections of the twin island republic on Sunday afternoon.
The Seismic Research Centre at the University of the West Indies (UWI), St. Augustine campus said the tremor was felt at 12:35pm (local time) had a depth of 80 kilometres and was located at Latitude: 11.51N and Longitude: 60.12W. There were no reports of injuries or damages.