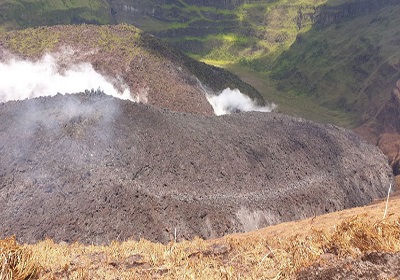 The National Emergency Management Organization (NEMO) has announced that recent elevated volcano-tectonic (VT) earthquakes associated with the La Soufriere volcano site in St Vincent have stopped.
NEMO said the earthquakes stopped on March 26, and "since then, the only seismic activity being recorded is small low-frequency events associated with the growth of the dome."
According to NEMO, these kinds of events were previously dominant.
"Their rate of occurrence does not appear to have changed as a result of the volcano tectonic earthquake swarm."
Last week, NEMO director Michelle Forbes said that persons close to the volcano should be prepared to evacuate at short notice. "We have been saying for the last few months we have to be ready for any sudden change, any quick change," Forbes said on a local radio program.
Geologist Professor Richard Robertson, who heads the volcano monitoring team, endorsed Forbes' comments, saying the country has been fortunate this time because the eruption began effusively, unlike in 1979 when the volcano last erupted. 
"And for the last three months, it's been erupting quietly. So people talk about warning of an explosive eruption, the warning you are getting now is your warning. So, if you didn't know in December that this volcano could erupt, you should have known by January, and February, and you certainly should have known by March," Robertson said.
"This volcano is giving you plenty warning; I suggest you take the warning," Robertson said.
In its latest bulletin on Saturday. NEMO said the new dome continues to grow towards the Leeward and Windward sides of the volcano with the most active gas emissions being at the top of the new dome, and the contact areas between the pre-existing 1979 and 2020/21 dome.
A drone survey of the dome conducted on March 19 indicates approximately 6,291,084 cubic meters of new material (nearly double in size), have been added to the dome since the last survey on Feb. 12.
Meanwhile, the alert level remains at orange, the third-highest on the four-level scale, with red being the highest.
The orange alert means there's a highly elevated level of seismicity or fumarolic activity or both and eruptions may occur with less than 24 hours' notice.
NEMO reminded the public no evacuation order or notice has been issued and continues to appeal to the public to desist from visiting the volcano, especially going into the crater, since doing so is extremely dangerous.
CMC