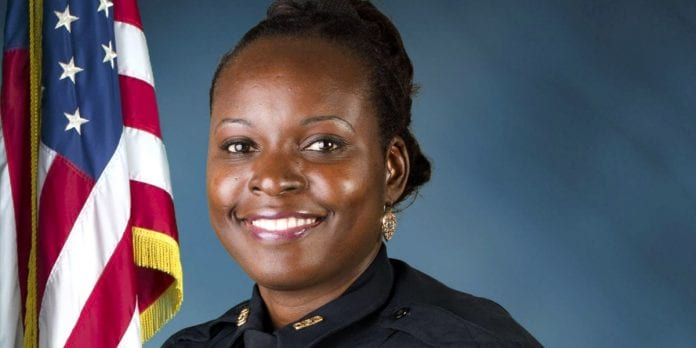 Fallen Orlando police officer was "friend of Jamaican-Americans"
Orlando Police Department Master Sergeant Debra Clayton, 41, who was shot down and killed on Monday as she tried to apprehend a man who earlier allegedly killed his pregnant girlfriend, is described by a Jamaican-American friend and Ocoee resident, Kaylin Boothe, as the "perfect community police."
Boothe says she was a close friend and associate of Clayton for some five years, and she was impressed on how "she used her law enforcement status to create a strong, positive link between the community and the police."
"She loved her community, and had a special love for Jamaicans and other people from the Caribbean. She loved Jamaica so much that when she got married last year she did so in Jamaica while on a cruise.'
Clayton was married in January 2016 to Seth Clayton, and was also the mother of a teenage son who is attending college in Jacksonville.
Orlando's Police Chief Hill John Mina in paying tribute to the officer described her as one "who passionately loved her community and died protecting it', and cited her special love for mentoring the youth.
Boothe also described Clayton as an officer "who particularly liked to see young people improve their lives. She took mentoring of the youth very serious, and very passionately."
The fallen police officer had served on the OPD for some 17-years, and according to Chief Mina, and Boothe, was fearless in the execution to her duty.
Boothe recalled that Clayton was one of the first responders to last year's tragic mass sooting at the Pulse night club in Orlando, "and how devastated she was for days that she and other police could not have arrived at the club earlier to save more people."
As a mentor of youth Clayton was a member of the Parramore Kidz Zone and other mentoring programs. In 2015 Boothe recalls Clayton's excitement in accompany several young people to the anti-violence Million Youth Peace March in Washington DC.  "When she returned she described how motivated the kids were from the trip, and said it made her want to even do more to protect the youth in the community from violence."
"In the months preceding her sudden death, Clayton was planning to start and operate a non-profit organization to mentor all lids, black, white, Hispanic, American, Jamaican, Puerto Rican, all Kids, and to also, ironically, militate against violent crimes."
Clayton was also an active member of the Urban League's anti-violence task force, Chief Mina said.