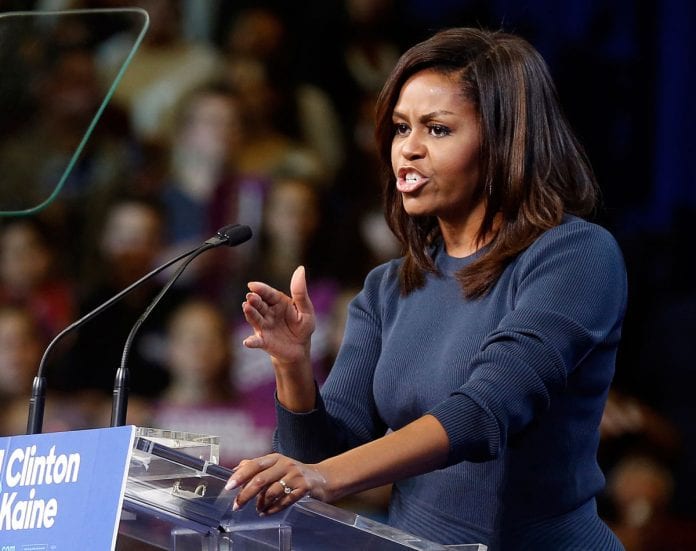 "Enough is enough" Michelle Obama
In one of the more passionate, bi-partisan, effective and brilliant speeches of the current presidential election campaign cycle, First Lady Michelle Obama stood up for the rights of women and condemned the demeaning sexist remarks made by Republican presidential candidate Donald Trump in a video released last week.
Speaking at a Clinton campaign rally in New Hampshire on Thursday, referring to Trumps comment on being privileged to kiss and grope women without their consent, nut never calling his name, Mrs. Obama said, "This is not something that we can ignore.  It's not something we can just sweep under the rug as just another disturbing footnote in a sad election season.  Because this was not just a "lewd conversation."  This wasn't just locker-room banter.  This was a powerful individual speaking freely and openly about sexually predatory behavior, and actually bragging about kissing and groping women, using language so obscene that many of us were worried about our children hearing it when we turn on the TV."
Turning to the negative impact that Trump's remarks has on women, the first lady said she was concerned and feels it personally, especially "The shameful comments about our bodies.  The disrespect of our ambitions and intellect.  The belief that you can do anything you want to a woman. It is cruel.  It's frightening.  And the truth is, it hurts……and I know it's a campaign, but this isn't about politics.  It's about basic human decency.  It's about right and wrong.  And we simply cannot endure this, or expose our children to this any longer — not for another minute, and let alone for four years.   Now is the time for all of us to stand up and say enough is enough.  This has got to stop right now."
Since Mrs. Obama's speech the response has been electrifying in the Caribbean-American community and in the Caribbean region. Social media has been viral with tweets and Facebook messages with people arriving at the consensus that the speech could "be the highlight of the presidential campaign," and the "turning point of the campaign."
In a tweet from Jamaica, attorney Carole Tenn, summarized what many Caribbean-Americans expressed on hearing Mrs. Obama's speech, "Michele just restored my faith in American politics. Her presence on the campaign should help America elect Hillary."
Nova Southeast University student, Gabbie Turner said  listening to the speech she "cast off the doubts" about voting in the general elections and now plans to vote as soon as the polls open on October 24, the first day of early voting. Turner, says she and a group of seven young men and women heard the speech and all have decided to go out and vote. "I agree with Mrs. Obama 'enough is enough' with this dark, depressing election cycle, and her speech made us recognize the importance of voting against bigotry and against a candidate who disrespects and demean women."
So effective was Mrs. Obama speech that on Friday  morning, less than 24-hour after the speech, the Clinton campaign began airing an ad featuring Mrs. Obama and excerpts of her speech.