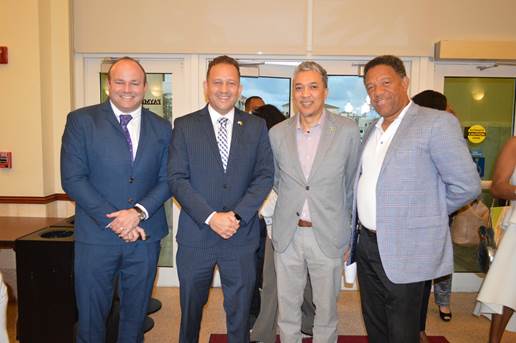 In the first of a series of community events, on March 7th, the office of the Consulate General of Jamaica hosted its "Invest Now" forum in Miramar.
During the event, which had approximately 200 attendees, Consul General Oliver Mair and guest speakers from a number of organizations, highlighted investment opportunities in Jamaica and the diaspora. Presenters also dove into 2019 Tax Compliance and the Foreign Account Tax Compliance Act (FATCA).
Spreading a positive narrative
Sharing about Jamaica's upward trajectory in several key sectors, the Consul General encouraged nationals living abroad to, "Help spread a positive narrative of what is happening in Jamaica." He further noted that focusing on the positives does not mean that the community should ignore the nation's issues, which, he said, must be addressed vigorously. However, he pinpointed the need for a balanced approach to the alleviation of social, political and economic issues, while recognizing, applauding and pouring support into the many areas that are thriving.
As Consul General Mair explained, Jamaica is undoubtedly in the midst of a rise, and its economic climate has become increasingly conducive for sound financial investments, both on the micro level, for individuals, and the macro level, for larger business opportunities.
At the event, Consul General Mair pointed out that recent data indicates that the Jamaican economy has seen 16 consecutive quarters of growth, the most it has had in 21 years. Meanwhile, the country's unemployment rate is at a 50-year low. The economy also grew by 1.8 percent in 2018, and saw record low inflation. He also noted the January 2019 Bloomberg report, which named the Jamaica Stock Exchange as the best performing stock market in the world, and the recent reduction in property tax, which further positions the country's real estate market as a viable investment avenue.   
Building Community
In speaking with CNW, Consul General Mair noted events like the "Invest Now" forum are crucial for his push to engage the Caribbean community. "I believe in listening to the community. There are a lot of good ideas out there. There's no need to reinvent the wheel. Sometimes in listening, the answer presents itself, and not necessarily from the big leaders," he shared.
Last week Consul General Mair also held a small meeting with a handful of young professionals, to hear their perspectives on the community's needs, and their ideas to address the issues identified. From that meeting, the Consul General will foster a youth action group, which will develop projects that speak directly to the issues that mean the most to them.  
"We want to engage young people", Consul General Mair told CNW, "and we also want to engage people in general who have not necessarily been involved."
Consul General Mair is adamant that community outreach and engagement are critical aspects of his mandate. "We can all take action in some way. We can each be a part of the solution," he said.