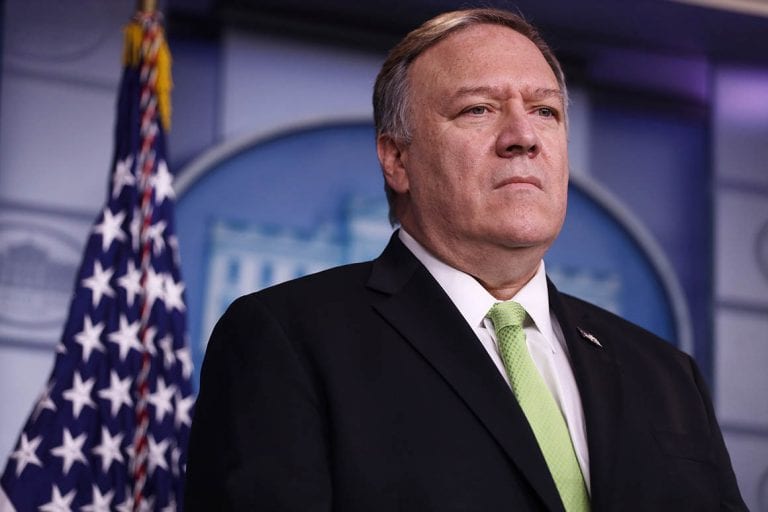 KINGSTON, Jamaica – The United States Secretary of State, Mike Pompeo is expected to arrive in Kingston, Jamaica on Tuesday, January 21, for a two-day visit. While Jamaica's Prime Minister, Andrew Holness and Minister of Foreign Affairs Kamina Johnson Smith have welcomed the visit, the governments of other CARICOM islands are skeptical of Pompeo's visit and have warned against the United States' effort to divide the Caribbean.
While in Jamaica, Pompeo will attend several meetings including bilateral talks with Prime Minister Holness at Jamaica House, a sit-down with regional officials and a policy discussion presentation in New Kingston.
According to numerous local reports, Pompeo will use his trip to consolidate regional support for the US stance on Venezuela. The United States does not recognise the Government of President Nicolás Maduro and is seeking Caribbean votes for the re-election of Luis Almagro as general secretary of the Organization of American States (OAS) in the election set for March 20.
Holness is expected to add to the agenda the recent decision of the US State Department to cancel the visitors' visas of several government ministers. Sources say Holness will also initiate discussions with Pompeo on further support from the US to disrupt the flow of illegal guns into the island.
Last Friday, at a meeting of the OAS, Pompeo said he was looking forward to meeting with leaders from across Caricom during his visit to Jamaica. "I'll travel to Jamaica, a good friend of America… I'll gather at an important meeting with many Caribbean leaders to discuss how we can all work together to promote our common democratic values and prosperity for all of our people. I'm looking forward to a fantastic set of meetings," said Pompeo.
He will participate in a round-table discussion with the foreign ministers of Bahamas, Belize, Dominican Republic, Haiti, Saint Kitts and Nevis, and St Lucia while in Jamaica.
Officials of the US State Department have also been reported as saying that Pompeo's visit is to advance the common interests of the US and Caricom in, "security, prosperity, development cooperation, and the promotion of democracy and human rights, and to commemorate our strong relationship with Jamaica as a partner and ally".
Prior to Pompeo's visit, Minister Johnson-Smith reassured the public that the meetings will not be within a CARICOM context. "All countries, large and small, have a sovereign right to engage bi-laterally with any other country, beyond any regional or hemispheric arrangements. This happens across the world even in the political unions which CARICOm indisputably, is not", she said in a press release.
WHY THE "DIVISION"?
With only six of the 15 CARICOM countries invited in the meetings with Pompeo, speculation is swirling of the United States' attempt to divide the region, on matters specifically regarding Venezuela.
In 2019, CARICOM had voted to accept the nomination of Gustavo Tarre as the OAS Ambassador. St. Lucia, Jamaica, Haiti and The Bahamas voted to accept Tarre, while Antigua and Barbuda, Grenada, Suriname and St. Vincent stood with Venezuela and voted against the measure. Other CARICOM states abstained from voting while Belize was absent from the vote.
The four countries (along with three others) that voted to accept the nomination of Tarre, who is backed by US President Donald Trump, were all invited to meetings with Pompeo.
Over the weekend prime minister of Barbados Mia Mottley, who is also the chairman of CARICOM, warned of an attempt to cause a rift in the regional grouping. "As chairman of CARICOM, it is impossible for me to agree that my foreign minister should attend a meeting with anyone to which members of Caricom are not invited. If some are invited and not all, then it is an attempt to divide this region," Mottley said.
The governments of Grenada, Trinidad and Tobago and Antigua and Barbuda have expressed solidarity with Mottley, stating that CARICOM countries should stick together.
Grenada was the second country to express disinterest in Pompeo's visit. Prime Minister Dr Keith Mitchell said that Grenada's position on Venezuela is well known as he confirmed that his country will not be represented at the meeting with Pompeo.
The Minister of Foreign Affairs of Antigua and Barbuda, Chet Greene, also stated that Antigua and Barbuda wasn't among those invited, but they wouldn't have attended the meeting even if they were. "We stand with and fully endorse the pronouncement of the CARICOM Chair, Prime Minister Mottley. We really hope that the Caribbean will continue to see the value of working together in promoting Caribbean civilisation and Caribbean values. As a bloc we have common interests and common challenges, so we must also find common solutions," he said.
Prime Minister of Trinidad, Dr. Keith Rowely also echoed similar sentiments, in support of Mottlley's position."PM Mottley has the full support of the government and the people of Trinidad and Tobago in outlining our principles and vision of Caribbean unity. In the expectation of Caribbean unity, the Prime Minister of Barbados speaks for Trinidad and Tobago," said Rowley.
Rowley has repeatedly stated that Trinidad and Tobago stands "on its proud history of fairness on the world stage, ranging from opposition to apartheid in South Africa to opposing the US invasion of Grenada".
At their summit in St Lucia last July, CARICOM leaders agreed to maintain their position of non-interference and non-intervention in the internal affairs of Venezuela. To this end, Foreign Affairs Minister Mark Brantley says St Kitts-Nevis does not regard the move by the United States to invite some regional countries to a meeting in Jamaica with US Secretary of State Michael Pompeo as a means of division.
"Well, the secretary of state for the United States has extended an invitation to St Kitts-Nevis at the foreign minister-level and we are carefully looking at that because we have some very important bilateral issues with the United States. It is very likely that we will seek to attend …unless something would change," Brantley said in an interview.
He said while it is not for him to respond to Mottley's statement, "I think that each country has bilateral interests. "I was not aware that Caricom was involved at all. It is to my mind not a Caricom meeting, as far as I have been told, but rather an opportunity for those who have been invited to meet and discuss, bilaterally issues with Secretary of State Pompeo (and) certainly that's the interest St Kitts-Nevis would have".
Brantley said he does not regard such a meeting as being "divided or divisive" adding "all of us have our own domestic interests and our own path that we are taking in order to leverage diplomacy for the benefit of our people".