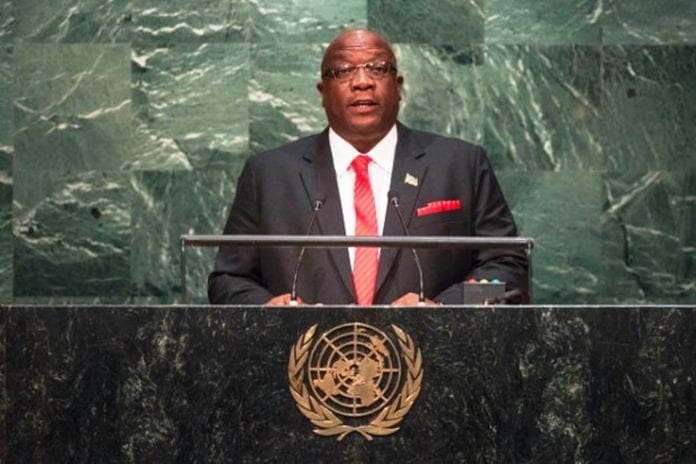 PORT OF SPAIN, Trinidad, CMC – A Caribbean Community (CARICOM) delegation will meet with the United States Secretary of State, Michael R. Pompeo on Wednesday for talks aimed at reaching a settlement on the ongoing economic and political situation in Venezuela, Prime Minister Dr. Keith Rowley has said.
Rowley, who attended the 30th CARICOM Inter-sessional summit in St. Kitts-Nevis earlier this week, said the regional leaders had received communication from Washington acceding to their request for a meeting on the issue.
Led by Dr. Timothy Harris
The CARICOM diplomatic team is led by its chairman and St. Kitts-Nevis Prime Ministe Dr. Timothy Harris and includes the Barbados Prime Minister Mia Mottley, Rowley and the CARICOM Secretary general, Irwin La Rocque.
CARICOM has maintained its position of non-interference in the internal affairs of the South American country where Opposition Leader Juan Guaido, who has declared himself interim president, is leading the effort to remove President Nicolas Maduro from office.
While Guadio has the backing of the United States and several other Western countries, Maduro, who was sworn in January, is backed by Russia, China, Cuba and several others.
Seeks mediating role
CARICOM has been seeking to play a mediating role in the conflict and said they were concerned that the escalation of the situation is increasing the hardship and suffering of the population exacerbated by the imposition of sanctions" mainly by Washington.
Rowley reiterated the position of the regional leaders at their summit in Bassterre where they said "the people of Venezuela must be allowed to decide their own future in accordance with the principles of the United Nations Charter – non-intervention, non-interference, prohibition of the threat or use of force, respect for the rule of law, human rights and democracy.
"As CARICOM has ceaselessly advocated, for this objective to be attained, there has to be a meaningful and internal dialogue between the contending parties," the communique noted.
Rowley said that CARICOM backs the Montevideo Mechanism that was outlined in Uruguay in response to the call by the United Nations Secretary General, Antonio Guterres, to find a pathway to a peaceful resolution through dialogue and from a position of respect for International Law and Human Rights.
Last month, Harris said that the Mechanism presents "the only objective mechanism" to address the complex political situation in Venezuela and that it is the only initiative available for international actors "who want to see peace in Venezuela.