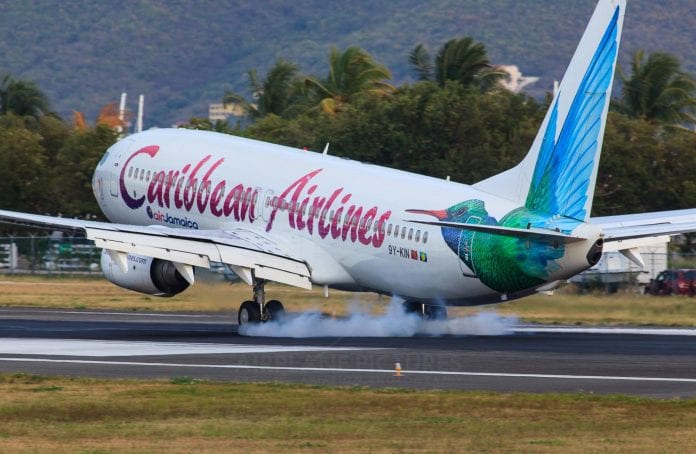 Caribbean Airlines (CAL) on Tuesday said that it will be introducing "some tough short term measures" from October 15 so as to lessen the economic fallout occasioned by the coronavirus (COVID-19) pandemic.
CAL is among regional airlines hard hit by the pandemic that has resulted in many countries closing their borders from March and while some Caribbean countries have announced plans for reopening, stringent measures mean that not many people are travelling.
In a letter to customers, CAL chief executive officer, Garvin Medera, said that the COVID-19 Pandemic "has had a devastating impact on airlines worldwide, and while our employees and management team have remained resilient, diminishing revenue has meant that our costs have outstripped our earnings".
While he gave no further details regarding the decline in revenue, Medera said that in order to secure the longer-term viability of the airline, effective October 15, "we will implement some tough short-term measures to help decrease our operating expenditure.
"While these temporary targeted measures are aimed at reducing costs, you can rest assured that they will not impact the quality of service, safety and customer care.
"As a matter of fact, our current operations including cargo, the domestic air bridge between Trinidad and Tobago, the Kingston and Barbados based commercial services and special government-approved flights to/from Trinidad and Tobago will be unaffected."
Medera gave no details as to how these flights will be affected by said that Caribbean Airlines is committed to its mandate "to connect the people of the region and in spite of the challenges caused by COVID-19 we will stay focused on our vision to be the airline of choice serving the Caribbean".
Media reports here earlier this week said that CAL in a bid to reduce its salary bill will send some employees on no-pay leave, reducing the salaries of others and temporarily laying off a third group.
The Sunday Express reported that the move would affect about 1,700 employees to varying degrees, but the most immediate impact will be felt by the company's 250 pilots and about 375 flight attendants.
It said CAL's proposals were made at a meeting that the board of the Trinidad and Tobago Airline Pilots Association (TTALPA) held with the airline's vice-president of Human Resources, Roger Berkeley, on September 16.
CAL proposed to place its contract pilots, who are over 60, on no-pay leave for a three-month period from October to December 2020. The airline also proposed to reduce the salaries of all other staff by between 15 and 20 per cent, based on their salary levels for a period of six- to eight-month period, starting on Monday, when the airline's October pay cycle begins.
CAL had been funded since May from the US$65 million government-guaranteed loan.
CMC