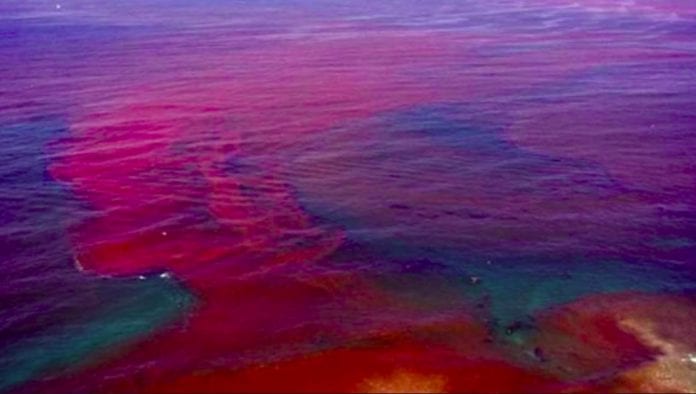 The Florida Fish and Wildlife Conservation Commission (FWC) has verified the presence of the red tide forming algae, 
Karenia Brevis (K.Brevis), 
in coastal waters of Palm Beach and Miami-Dade counties at low to moderate concentrations.
Respiratory discomforts in Broward
While analyses are still pending in Broward County, several recent reports of respiratory discomfort by beach visitors in Broward County suggest that the K. Brevis organism is also present in coastal waters of Broward County, likely at similar concentrations. 
Broward County is coordinating with the FWC to perform county-wide water quality monitoring to confirm the presence and concentration of K. Brevis in coastal waters. Results of this sampling will be made public as soon as results are available. If confirmed, this coordination and monitoring will continue until no presence of the algae is detected. 
Karenia Brevis algae
The red tide is produced by the algae Karenia Brevis, naturally occurring in the saline waters of the Gulf of Mexico.  This algae is rare on the East Coast as it prefers the calmer waters of the Gulf.  However, of the 57 occurrences of red tide in the Gulf of Mexico since 1953, eight of these events have brought the red tide organism to the east coast of Florida via the Loop Current and Gulf Stream.  None of these events resulted in large-scale blooms.
There are currently no beach closures within Broward County; however, local municipalities are being proactive with the posting of cautionary signage informing the public about the potential presence of red tide.  The FWC advises beachgoers to use their best judgment when visiting a beach impacted by red tide. According to State Health officials, low and moderate concentrations can produce allergy-like symptoms, such as scratchy throat or watery eyes. Individuals with respiratory conditions, such as asthma or COPD, should take measures to reduce exposure. We might also expect an increase in local fish kills. Persons who bathe in the ocean should limit bathing during and rise off.
Red tide can last for a few weeks to longer than a year, but is not known to persist on the east coast. Sunlight, nutrients and salinity, all play a role, as well as the speed and direction of wind and water currents.  Based on experience, we anticipate that the dynamic conditions of the east coast will serve as a control limiting the presence, persistence, and concentration of the organism in our nearshore waters.
For more information on red tide conditions locally and around the state, follow this link to FWC's website: http://myfwc.com/research/redtide/
To report a fish kill, call FWC's fish kill hotline: 1-800-636-0511.