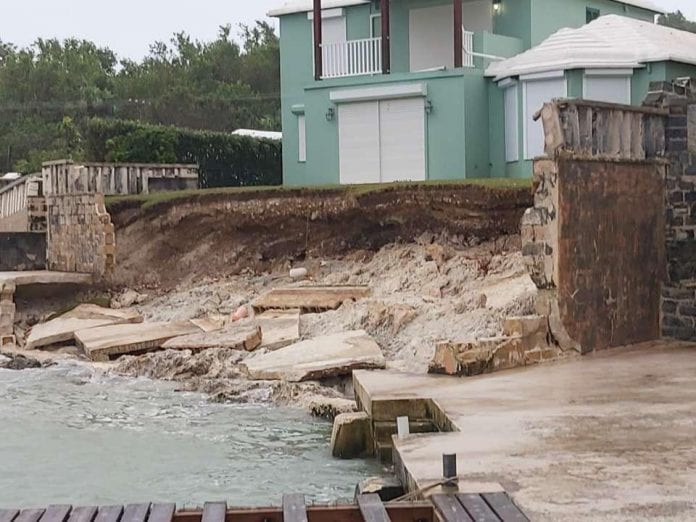 Bermuda's Minister of National Security Renée Ming praised work crews across the island on Tuesday in the wake of the hours-long pounding from Hurricane Paulette, saying the island was "back up and running in record time" after apparently escaping serious structural damage.
She told a media briefing that crews from sole power provider Bermuda Electric Light Company (Belco) got "phenomenal" work done after more than 25,000 of its 36,000 customers lost power early on Monday as Paulette, packing winds of around 100 miles per hour, knocked down utility poles and tree branches.
The number of people without had been brought down to just under 3,000 by 4 p.m. local time on Tuesday.
Belco said its retirees had been helping with restoration efforts.
Premier David Burt said "while I know that a considerable number of people remain without power, Belco's workers returned electricity to over 20,000 customers since the end of storm- force winds.
"This is a remarkable achievement and I have already expressed my thanks on behalf of the people of Bermuda to those men and women at Belco," he added.
The company's president, Dennis Pimentel, said "our crews are making great progress in restoring power quickly and safely to our customers.
"I would like to thank the public for their patience and understanding as we work to get the remaining customers switched back on."
Ming said traffic was now "flowing fairly unhindered" thanks to road clean-up efforts by the Department of Parks and Public Works staff aided by the Royal Bermuda Regiment.
The regiment is to end its embodiment later on Tuesday, Ming said.
On the coronavirus (COVID-19) front, the old Perot Post Office testing centre in Hamilton for incoming airline travellers resumed operations on Tuesday, while testing for the regular population is likely to start again on Wednesday.
Government schools remained closed on Tuesday, but staff were told to report on Wednesday, while students will return to their classrooms on Thursday.
The L.F. Wade International Airport reopened on Tuesday while bus and ferry services will resume on Wednesday.
Ming addressed concerns over Tropical Storm Teddy, which lay about 1,800 miles southeast of the island and is predicted to develop into a Category 3 hurricane later in the week, according to the Miami-based National Hurricane Centre.
Although early forecasts show the storm making a beeline for Bermuda, Ming warned: "Much uncertainty remains — it's too early to make any predictions, but the Bermuda Weather Service will continue to monitor it for future developments."
CMC