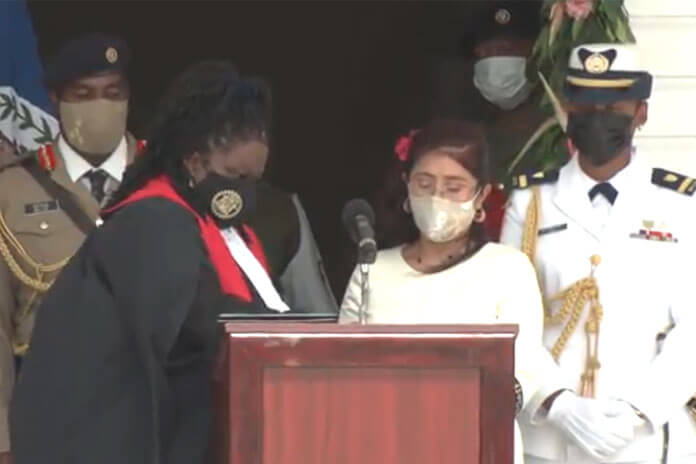 Belize has sworn in educator and an indigenous woman, Froyla T'zalam, as the country's first female and third Governor-General with Prime Minister John Briceño saying she brings with her more than just 20 years of experience in Belize's rich Maya history.
T'zalam replaces Sir Colville Young, who demitted office at the end of April.
Speaking at the official ceremony at the refurbished House of Culture in Belize City. Prime Minister Briceño said T'zalam brings with her more than just 20 years of experience in rich Maya history.
"She brings more than her master's in rural development and her anthropology degree. She brings more than the total of her work as an academic, her scholarly publications and decades of experience as a community organizer – all of which makes her fully qualified for her new role," he said.
The ceremony was steeped in historical significance with the Acting Chief Justice Michelle Arana, a Garifuna woman also of indigenous descent, stand side by side with T'zalam as the oath to office was proclaimed.
In her inaugural address to the nation, Governor-General T'zalam paid tribute to Sir Colville Young and his wife "for their unwavering commitment to Belize for nearly three decades of service.
"I want to thank the Prime Minister John Briceño and his cabinet for their trust in me to serve in this high office. I also want to thank the many Belizeans who have expressed their delight and support over social media and personal notes to my appointment."
She told the country that with her new platform, she intends to be a champion not only for the Maya people but for all citizens of Belize.
"Although we were not financially wealthy, we had our values. My parents did not raise us to see ourselves as poor. We had food and shelter; I was surrounded by family with lots of rooms to run around as well as chores to teach me how to be responsible.
"These chores imbibe in me an appreciation for the benefits of hard work. While the installation of a Mopan woman as a Governor-General can be seen as a symbolic milestone, it should not be seen as wilfully ignoring our colonial past. Rather, it is a new chapter in Belize's evolution as a country for all and by all."
The Governor-General said she intends to carry out the constitutional role of her office with the required diligence.
"It is also my hope that time will permit me to carry out more than my constitutional duties. This is an institution with its own culture, however, like all institutions, it is inhabited by people. Since my appointment was announced, I have had many requests made of me. From building bridges and roads to amplifying the voices of the people.
"I intend to fully build metaphorical bridges in this country, uniting all of us in the rural areas and the towns. I will use my interest in strengthening local communities to build a nation that can overcome challenges," the new head of state added.
CMC