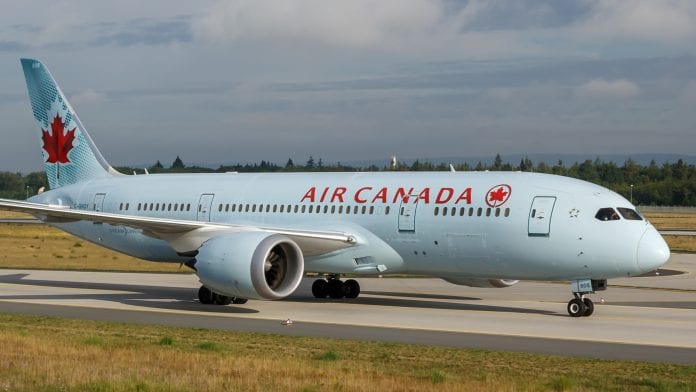 Bermuda is to be left without direct air service from Canada for more than a month after Air Canada announced it is suspending weekly flights to the island because of a massive slump in business caused by the coronavirus pandemic.
The airline said its Toronto to Bermuda service would be suspended after its January 8 flight until February 12.
A spokeswoman for Air Canada said: "Air Canada currently operates one flight weekly to Bermuda from Toronto.
"Reflecting current market conditions, this flight will be temporarily suspended …"
WestJet, another Canadian carrier, confirmed that its suspension of many international flights, including the service from Toronto to Bermuda, would remain in force.
A spokeswoman for the airline said: "The COVID-19 crisis hit WestJet and the global aviation industry with devastating force.
"Since the beginning of March, guest traffic has dropped significantly, we are operating at approximately a 75 percent reduction year over year and have been forced to suspend the vast majority of our flying due to the pandemic."
"We remain committed to service to Bermuda from Toronto and it is our intent to resume operations as soon as it becomes economically viable to do so," she added.
A spokeswoman for British Airways (BA), the only carrier offering direct flights from Britain to Bermuda, said it was sorry it was operating a reduced service.
"Our focus is on keeping crucial air links open where possible — bringing home customers currently abroad and transporting vital goods, and ensuring people who are permitted to travel can continue to do so safely."
Meanwhile, five passengers on BA flights from London's Gatwick Airport were among 14 new cases of COVID-19 from the weekend's test results, taking the island's total to 595, more than half of the cases in December alone.
In addition to the five BA cases, a resident who arrived on JetBlue Airways from New York on Boxing Day tested positive on arrival.
Travelers returning to the island without a pre-arrival test will now have to wear an electronic monitoring bracelet and pay a US$300 fee.
An outbreak of coronavirus infections in the long-term care unit at the King Edward VII Memorial Hospital is under investigation after another patient and staff member tested positive.
Dr Michael Richmond, chief executive and president of the Bermuda Hospitals Board, said the new cases followed two patients who tested positive last week.
Richmond said contact tracing was finished, but the cause of the outbreak was still being investigated.
An unnamed senior who died in the hospital on Saturday was the island's 10th COVID-19-related fatality, but the first since May.
CMC