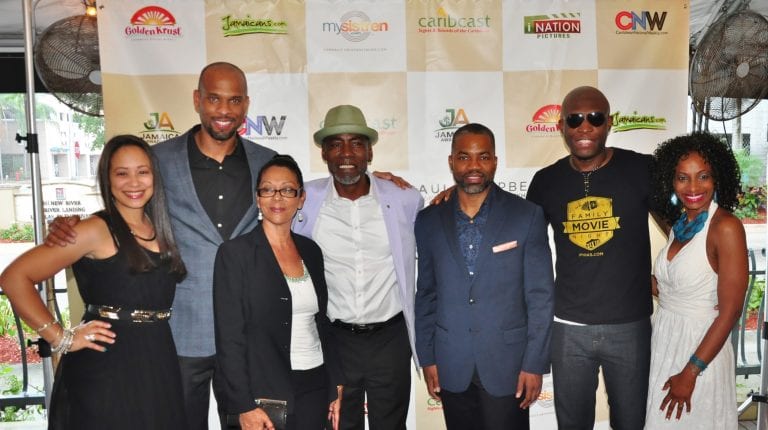 A Labor of Love for "The Heart of Summer" film
There wasn't a dry eye in the house this past Sunday at the South Florida premiere of Jamerican featured film, "The Heart of Summer," held at Cinema Paradiso in Fort Lauderdale. Cinephiles turned up in droves to support the locally-produced film, starring iconic Jamaican actor Paul Campbell, and local talents, Tesh Beckham and Lex Kelly-Meade.
This warm-hearted romance stars Kelly-Meade as Omari, a young college student back in South Florida for the summer, who falls in love with Beckham's Naomi – a life-loving teen seeking to strike out on her own from her protective and overly cautious father, Mr. Johnson (played rivetingly by Campbell). This classic love story of star-crossed lovers takes a unique twist however, by telling it through the perspective of Caribbean-American families living in South Florida.
"I just felt our Caribbean culture [in South Florida] had a lot more to offer," said Ray Balgove, screenwriter of the film's original story. "I've lived here most of my life, but I never saw [our community] depicted in that way."
The Floribbean storyline was also too irresistible for "The Heart of Summer" director and co-producer, Adrian Allen, who worked hard to put the community's unique stamp on the film, from the cast to the locations.
"When you see South Florida on screen you usually only see shots of South Beach," said Allen. "We wanted to show that South Florida is so much much more than that. We wanted to shoot the film showing the real imprint of our community, so we shot about 90 percent within Lauderhill and Lauderdale Lakes."
And there was no trouble rallying the team needed to put together such a major feature film, said Allen, as "there were so many friends, colleagues and people in the industry looking for this, and deciding to come together to make it happen."
It was certainly a labor of love for Campbell, who also came on as a co-producer with Allen and fellow filmmaker Vivienne Chance.
"In this business there is a lot of red tape, so when we all came together it was out of a great need to create something to continue in the business we like so much," said Campbell. " For us as Caribbean people, we need to get together to tell our own stories, and support our own stories."
Currently making the rounds on the festival circuit, the filmmakers are planning to continue with screenings in New York, Jamaica, and London.