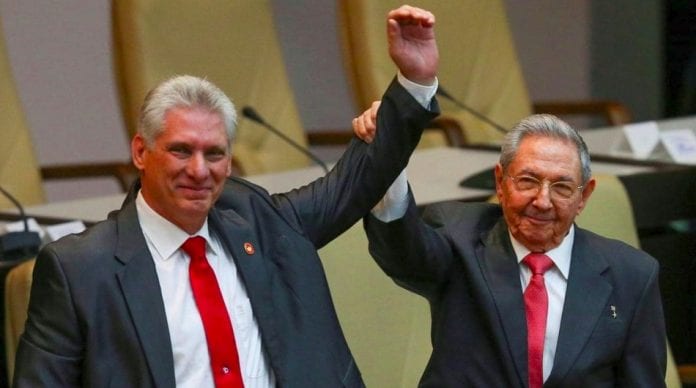 A major change in the Caribbean political scene takes place this week. As of Thursday April 19, for the first time since the Cuban revolution in 1959, a Castro will not be the head of the Cuban government. That's because on that date 57-year-old Miquel Diaz-Canal, who has been Cuba's vice-president will succeed President Raul Castro, 86, as the nation's president.
Raul Castro has been Cuba's president since 2008 when his famous brother Fidel, the Cuban Revolutionary leader stepped down as president as his health failed. Last year, Raul had announced he would retire at the end of 2017, but delayed this following the impact of Hurricanes Maria and Irma on the island.
Still leader of Cuba's Communist Party
Although Raul is retiring as president, like Fidel when he retired,  he will remain as the leader of Cuba's Communist Party. As such, he will still have broad authority over the direction of Cuba's government and the role played by the new president.
During the 10 years that Raul Castro has led the Cuban government there has been significant changes in the country.
Despite the trade blockade that was enforced by the US in the early 1960s, after Fidel Castro declared a communist state, still exists creating continued economic hardships for the Cuban people, some significant strides have been made,
Significant strides made in Cuba
One of the more significant development was agreement made by Raul and former US President Barack Obama in 2015 to renew diplomatic relations. This agreement, which saw the US reopening its embassy in Havana, was greeted enthusiastically by Cubans as it reopened the once buoyant tourism sector. Millions of foreign visitors have headed to Cuba since. However, since the Trump administration took office in 2017, expectations for the continued growth of the tourism sector, growth in the general Cuban economy, and an ease in the devastating US trade embargo have waned.
Nonetheless, there has been growth in Cuba's private business sector and real estate market; expanse in Internet and cell phone usage; and reported reduction in foreign debt.
Enhanced CARICOM-Cuba relations
Under Raul Castro, the relations between Cuba and its Caribbean neighbors, already favorable when Fidel was president, strengthened. Although Cuba is not a member of the Caribbean regional community group. CARICOM, the organization and Cuba has entrenched relationships, especially through regular CARICOM-Cuba Summits. The sixth of such summits was held in December 2017 in Antigua co-chaired by then CARICOM chairman Dr. Keith Mitchell, Grenada's Prime Minister and Raul Castro. That meeting marked 45 years of diplomatic relations between CARICOM and Cuba. It examined issues of regional and global importance including climate change adaptation and disaster risk management, key regional issues following the devastating impact of hurricanes in the Caribbean in 2017.
Relations will be maintained
South Florida's Wesley Kirton, President of the Guyanese-American Chamber of Commerce, doesn't expect any negative changes in CARICOM-Cuban relationship under President Diaz-Canal. "That relationship solidified increasingly over the years. Former and new members of Cuba's government will always recall favorably that Barbados, Guyana, Jamaica and Trinidad and Tobago were the first countries in the West to re-establish diplomatic relations with Cuba. Moreover, Cuba currently has positive trade relations with several Caribbean countries despite the US trade embargo. If anything, I expect the Cuban-CARICOM relationship to strengthen."
Cuban-Americans don't expect much change either. Former Cuban businessman, and West Kendall resident Alex de-Santiago said, "The real significant change Cuban-American wants urgent, is full democratic rule. This isn't going to happen even with a Castro not president. The Castro's philosophy and influence are imbedded in the present government. Communism will still rule, and freedoms will still be compromised. Full democracy, and real positive US-Cuban relations won't be restored for decades. Definitely not under Dias-Canal."