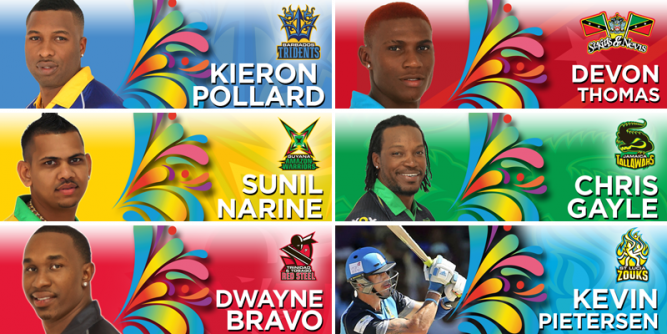 International Director of Cricket says inclusion of world-class talent highlights CPL's standing
Australian two-time ICC Cricket World Cup winner Tom Moody believes that this year's Hero Caribbean Premier League (CPL) will be the most competitive yet and that the inclusion of a myriad of world-class players across all six teams will make it the biggest and best yet.
Moody, who recently steered Sunrisers Hyderabad to their maiden IPL title as Head Coach, is the CPL's International Director of Cricket and played a key role in securing the signing of overseas players of the calibre of AB de Villiers, Faf du Plessis, Brendon McCullum and Shane Watson for the first time.
The 50-year-old believes that their commitment to the biggest party in sport, allied to a host of outstanding local West Indies and international stars, is a ringing endorsement of the growing international stature of the CPL, which will this year be played between 29 June and 7 August.
Speaking exclusively to www.cplt20.com, in an interview which is available for free download and editorial use, the former Warwickshire, Worcestershire and Western Australian all-rounder, who scored 21,001 first class runs and took 361 first-class wickets in a career spanning 16 years, spoke about winning the IPL, the growth of CPL's standing internationally and outlined his hopes for the forthcoming season.
On coaching the IPL winners: "It was definitely career highlight to be involved in a successful IPL campaign. The IPL, as we all know, is a big tournament and to end up winning what is a pretty hard-fought battle, and get the reward at the end of it is a real bonus for all involved in the campaign."
On the impact of West Indies' Treble winning success over the last six months: "I think it (the Treble victories) was just wonderful and it's not just the Men's team, it's right through from the Under-19s winning their World Cup and the Women winning their World Cup and then then Men putting the cherry on the cake. I think that's an enormous boost to West Indies cricket and it's a great way to launch another CPL season. The CPL is on the rise, everyone's talking about it, everyone wants to be involved in it and to have that success at all those levels is only going to have the islands buzzing."
On the CPL's recruitment drive in the close season: "I think it's enormous (boost). I obviously spoke to all of these players (AB de Villiers, Faf du Plessis, Martin Guptill, Brendon McCullum, Kumar Sangakkara and Shane Watson) with regard to getting involved in the CPL in 2016 and it wasn't a hard sell. The best players in the world want to play in this tournament because they have heard a lot of positive things about the tournament, they've heard how successful it's been, they've heard how competitive it's been and the best players want to play in the best tournaments. It's as simple as that. To lure the likes of McCullum, de Villiers, Watson and whoever it might have been to this tournament, and it's littered with big international names, was a reasonably easy task purely because of what the CPL has managed to build over the last three years."
On developing the next generation of West Indies players: "For me the CPL is one pathway where players, right from the Under-19's level through to domestic players, who might not get the light shone on them during the summer, can launch their careers. We've seen it before in the IPL with young Indians, and in Australia with young Australians (in the Big Bash). And it should really be no different in the Caribbean where the CPL can be a vehicle for young players to be really highlighted on the big stage because they're playing against some of the best players in the world. If they can stack up against those players and perform consistently and really shine over the tournament, it's a real launching pad for them into their career."
On the emergence of Guyana Amazon Warriors-bound Adam Zampa in recent months: "It doesn't matter if you're a veteran of 100 Test matches, or a rising star, the Caribbean Premier League is a tournament that people want to perform in. Adam Zampa is a great example of someone who sees the Caribbean Premier League as an opportunity for him to continue to develop and increase his stock as a cricketer. If he continues to have a good Tri-Series prior to this tournament, and he backs it up with a good CPL, he's going to be looked upon more and more as a real contender for Australian cricket in all formats of the game."
On the move to Lauderhill in Florida and the entry of CPL into the USA: "I think it's a very exciting opportunity for the CPL to introduce a formal, vibrant and successful tournament to the American market. We know it's going to be very diverse, in terms of the audience, and that's the exciting thing. We'll be introducing the game to some new people and we're going to be bringing the game to people that have been starved of live cricket. I can see a lot of people travelling from far and wide just to capture a few days' cricket and, to me, it's a really exciting opportunity for the players of the Caribbean and the internationals who are involved to really showcase their skills and put on a show in that week were in Florida."
On the competitiveness of squads across the board in this year's CPL: "There's no doubt that every side was very shrewd through the Draft process and recruited very well. You can't pick a winner. In the past you could have hinted that maybe the (Barbados) Tridents and the (Jamaica) Tallawahs were destined to play Finals cricket. But you look at the teams now and it's very hard to pick a top two. And that's very exciting for the tournament. There's nothing better than having all six teams towards the back end of the tournament vying for the Finals."
On the Australian influence at CPL 2016 (Watson, Hussey, Lynn, Zampa): "You can guarantee that the Australian audience Down Under will be keeping an eager eye on some of their favourite players. I know that the CPL has definitely got traction in Australia and people do follow the tournament closely. Obviously likes of Watson and Hussey are favourites in all forms of the game, Hussey is continuing to show how it's done long after his international retirement and with Zampa, everyone's excited with his meteoric rise, there's no doubt it's exciting when he gets the ball in his hand."
Tickets for all CPL matches across the Caribbean and in Florida are on sale from www.cplt20.com.