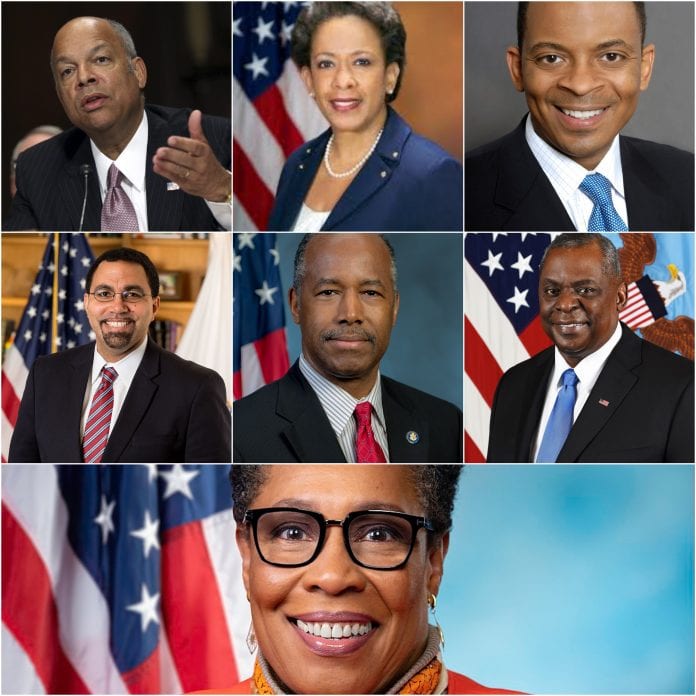 This concludes CNW's Black History Month series highlighting African American men and women who made history when they served as Cabinet secretaries to respective United States presidents.
Jeh Charles Johnson (born September 11, 1957) 
Johnson, an attorney, was nominated as U.S. secretary of homeland security by President Barack Obama during Obama's second term in 2013 and remained in the post until January 2017. 
Prior to serving in the Cabinet, from 2009 to 2012, Johnson was the general counsel of the Department of Defense. Johnson was also a federal prosecutor and general counsel of the Department of the Air Force before serving in the Obama administration.
Johnson was born in New York City, and raised in Wappingers Falls, New York. He's the grandson of sociologist and Fisk University President Charles S. Johnson. Former Secretary Johnson was named Jeh for a Liberian chief, who was said to have saved his grandfather's life while on a mission to Liberia with the League of Nations  in 1930. 
With a less than stellar high school career at Roy C. Ketcham High School where he was earning C and D grades, Johnson's vision of becoming at attorney became a motivating factor when he entered Morehouse College in Atlanta, Georgia. He graduated from Morehouse with a Bachelor of Arts degree, and later from Colombia Law School with the Juris Doctor degree. 
Since 2020, Johnson has been a partner at the law firm Paul, Weiss, Rifkind, Wharton & Garrison and a member of the boards of directors of Lockheed Martin and U.S. Steel.  
Loretta Elizabeth Lynch (born May 21, 1959) 
Lynch Lynch, an attorney, succeeded Eric Holder as U.S. attorney general in President Obama's Cabinet, serving from 2015 to 2017.    
Before serving as the 83rd attorney general, and first African-American woman U.S. attorney general, she served as the U.S. attorney for the Eastern District of New York under Presidents Bill Clinton (1999–2001) and Obama (2010–2015).  
Lynch was born in Greensboro, North Carolina and grew up with parents who attended Shaw University—an HBCU where the Student Nonviolent Coordinating Committee (SNCC) was founded. 
Young Lynch spend hours with her father watching court proceedings in the Durham, North Carolina courthouse. She also developed a keen interest in assisting people marginalized by racism on hearing stories about her grandfather, a sharecropper and pastor, who in the 1930s helped people move to the north to escape racial persecution in the then segregated south.
Lynch earned a Bachelor of Arts in English and American literature from Harvard College in 1981 and a Juris Doctor from Harvard Law School in 1984, where she was a member of the Harvard Legal Aid Bureau. She also was awarded an honorary degree from Duke University. 
Following her graduation from Harvard, she became a federal prosecutor in New York in 1990, rising to head the Eastern District office. From 2003 to 2005, she served on the board of the Federal Reserve Bank of New York.
Anthony Renard Foxx (born April 30, 1971)  
Foxx, another of President Barack Obama's Cabinet appointees, served as U.S. secretary of transportation from 2013 to 2017. Fox, who is an attorney, had the distinction of being one of the few cabinet nominees to have received unanimous confirmation by the Senate.
His appointment to Obama's Cabinet followed his tenure as mayor of Charlotte, North Carolina from 2009 to 2013. When he was elected as Charlotte's mayor, he created history as the youngest mayor of that city. 
Foxx was born in Charlotte, North Carolina, and as a youth attended and graduated from West Charlotte High School. He would go on to major in history at Davidson College, where he also served as the first African-American student body president. Following his graduation from Davidson College, he went to New York University School of Law, graduating with a Juris Doctor in 1996.
John B. King Jr. ( born January 5, 1975)
King is a Puerto Rican-American educator and attorney who was appointed by President Barack Obama as U.S. secretary of education in 2016, serving in the position for only one year when Obama's second term ended in 2017.
King was born in Flatlands, Brooklyn, NYC, into a family steeped in public education. His father, John B. King Sr., was Brooklyn's first Black principal and later became New York City's executive deputy superintendent of schools. And his mother, a school guidance counsellor. Both his parents died before King was turned 12 years old and he was raised  he would subsequently be raised by an uncle in Cherry Hill, New Jersey.
He attended and graduated with a Bachelor of Arts degree In government from Harvard University, after which he taught social studies and received his master's degree at Teachers College, Columbia University. 
King graduated from Columbia, and taught for three years including two at a charter school in Boston. He is credited for being one of the founders of the Roxbury Preparatory Charter School, where he served as co-director for five years and developed its curriculum and rules. Under King's leadership, Roxbury Prep's students attained the highest state exam scores of any urban middle school in Massachusetts, closed the racial achievement gap, and outperformed students from not only the Boston district schools but also the city's affluent suburbs.
King later received a Juris Doctor at Yale Law School and a Doctor of Education degree in educational administrative practice at Columbia.   
King later was appointed a managing director for Uncommon Schools, an urban, public charter school organization that operates some of the highest-performing urban public schools in New York, New Jersey, and Massachusetts. In 2013 Uncommon Schools won the Broad Prize for top charter network.
Benjamin Solomon Carson Sr. (born September 18, 1951)
Carson a renowned African-American neurosurgeon, author, and politician was the only African American appointed by President Donald Trump to serve in his Cabinet. Carson served as the 17th United States secretary of housing and urban development from 2017 to 2021. Prior to being nominated by Trump, Carson was one of the many rival candidates for the 2016 Republican presidential nominee.
Carson was born in Detroit, Michigan and attended Southwestern High School, where he developed an affinity for sciences. He later attend Yale University on a scholarship and graduated with a BA in psychology in 1973 and was accepted to the University of Michigan Medical School. After graduating with the MD in 1977 he was elected to the Alpha Omega Alpha Honor Medical Society, and accepted to the Johns Hopkins University School of Medicine neurosurgery program, where he served one year as a surgical intern and five years as a neurosurgery resident, completing the final year as chief resident in 1983. 
He became the youngest director of pediatric neurosurgery at the Johns Hopkins Children's Center, and the youngest in the United States in 1984 at age 33. Following a phenomenal career at John Hopkins where he achieved remarkable success as a brain surgeon he retired in 2013 as professor of neurosurgery, oncology, plastic surgery, and pediatrics. His achievements include participating in the first reported separation of conjoined twins joined at the back of the head. 
Lloyd James Austin III (born August 8, 1953)
Austin is a retired United States Army four-star general who is the 28th and current United States secretary of defense since January 22, 2021 in President Joe Biden's Cabinet. He is the first African American to serve as U.S. defense secretary. Austin previously served as the 12th commander of United States Central Command (CENTCOM) from 2013 to 2016.
Austin was the 33rd vice chief of staff of the Army from January 2012 to March 2013, and the last commanding general of United States Forces—Iraq Operation New Dawn, which ended in December 2011. In 2013, Austin was appointed as the first Black commander of CENTCOM by President Barack Obama. He retired from the armed services in 2016 and joined the boards of Raytheon Technologies, Nucor, and Tenet Healthcare.
Austin was born on August 8, 1953, in Mobile, Alabama and raised in Thomasville, Georgia. He graduated from the United States Military Academy (West Point) with a Bachelor of Science degree in 1975.  He later earned a Master of Arts degree in counselor education from Auburn University's College of Education in 1986, and a Master of Business Administration in business management from Webster University in 1989. He is a graduate of the Infantry Officer Basic and Advanced courses, the Army Command and General Staff College, and the Army War College. 
Marcia Louise Fudge (born October 29, 1952) 
Fudge, whose confirmation to Joe Biden's Cabinet as U.S. Secretary of Housing and Urban Development is still pending, is an attorney and member of the U.S. Congress from Ohio's 11th congressional district since 2008. She served as chair of the Congressional Black Caucus in the 113th Congress. 
On February 4, 2021, the U.S. Senate Committee on Banking, Housing, and Urban Affairs advanced her nomination by a vote of 17-7.
Fudge was born in Cleveland, Ohio. She graduated in 1971 from Shaker Heights High School; and earned her Bachelor of Science in business from Ohio State University in 1975.  Fudge also earned her Juris Doctor degree from Cleveland State University's Cleveland–Marshall College of Law in 1983.
She was elected Mayor of Warrensville Heights, Ohio in 2000—a post she held to November 2008. She has also served on the board of trustees for the Cleveland Public Library.