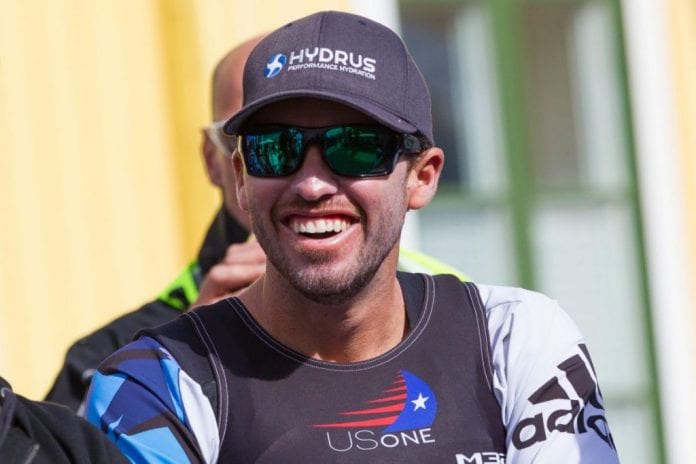 US Virgin Islands skipper Taylor Canfield won the 70th Bermuda Gold Cup and 2020 Open Match Race World Championship after out-dueling England's Ian Williams in Friday's (October 30) penalty-filled final held in blustery conditions in Hamilton Harbor.
It was 31-year-old Canfield's third Gold Cup win, having previously been champion in 2012 and 2018 and second world match-racing title, having also triumphed in 2013.
Canfield and his Stars+Stripes USA crew won three of the four races in the first-to-three final against defending Gold Cup champion Williams' GAC Pindar.
Said Canfield after the week-long regatta which featured 16 crews:  "We love to be here racing and to come away with the win is just a bonus so we are thrilled.
"It's unbelievable. I can't thank my team enough.
"I think we were the fastest boat out there because of how focused everyone was on board, no matter where we were. These guys push right to the end no matter what. 
"If we're behind or ahead they wanted more all the time and everyone stayed super focused and did their jobs well. I put us in a lot of tough spots this week and they got us out of almost every one of them. 
"Thanks to Bermuda for getting us here. We're excited to be out racing again, and to come away with a win is unbelievable. We're thrilled."
Williams, a 43-year-old Exeter-born sailor who has twice won the Gold Cup, said,  "I guess it was exciting for the spectators today.
"It was a pretty rough one for us as you can tell. The umpire decisions were critical today and we were on the wrong side of them.
"But we just have to accept that and move on and try and come back stronger next year."
Earlier in the day, Canfield and Williams completed respective semi-final victories over Phil Robertson of New Zealand and Jeppe Borch of Denmark, having jumped out to a 2-0 advantage in the opening two races of the best-of-five semi-finals on Thursday.
Dethroned world champion Robertson beat Gold Cup debutant Borch in the first-to-two points petit final to round out the podium.
CMC