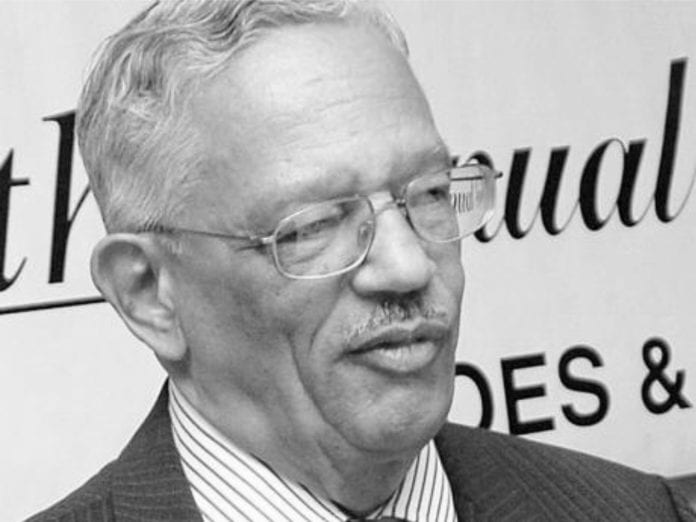 Former Cricket West Indies president, Pat Rousseau dies at age 85 in Kingston, Jamaica on Tuesday, April 16, following a long illness. The prominent Jamaican lawyer and businessman led the then West Indies Cricket Board from 1996 to 2001, after taking over from the late Barbadian Captain Peter Short.
Rousseau, 85, oversaw a turbulent period in West Indies cricket but was largely credited for overhauling the board's commercial model and helping to monetize its brand.
Skerritt pays tribute
Newly elected CWI president, Ricky Skerritt, who served as Windies team manager under Rousseau, hailed the former administrator as a "sharp legal and business mind", who had been "passionate" in all his pursuits.
Read More: Ricky Skerritt elected president of Cricket West Indies
"Pat was a strong man, always very focused and determined. He was a sharp legal and business mind, and it was reflected during his time in charge of the organization between 1996 and 2001," said Skerritt, who assumed the CWI presidency last month.
"He, along with former chief marketing executive Chris Dehring, was instrumental in signing a record (at the time) international television deal for the WICB, now CWI, with Sky and convincing the International Cricket Council to stage the ICC Cricket World Cup 2007 in the Caribbean.
"Pat was also the driving force behind the incorporation of the WICB in November 1998 – starting the transformation of the organization into becoming a more corporate operation – and the permanent relocation of the corporate headquarters to Antigua."
He added: "He was passionate about his work, he loved life, he was a keen follower of sport, leading to him and Dehring launching SportsMax, the first subscription television network broadcasting sport programming to the entire Caribbean, and he was a great mentor to many people. He will be missed."
Chris Dehring's tribute
Jamaican Dehring, who also served as chief executive officer for the 2007 World Cup, described Rousseau as a "pioneer in just about everything he did".
"He was highly respected and he was the one who recruited me to the Board of West Indies cricket in 1996 … and has moulded me and was responsible also for the bid for Cricket World Cup," said Dehring.
"We spent a lot of time together travelling all over the world and I relished those moments and his death is not only a loss to Jamaica, but for the region and we are very proud of what he has achieved." – Dehring
He added: "He was a pioneer in just about everything he did and was never afraid to take on huge challenges and he had big vision."
After previously serving on the board's marketing committee, Rousseau assumed the West Indies cricket presidency in 1996. He was re-elected unopposed two years later before beating late Trinidadian Alloy Lequay to win again in 2000.
Read More: CPL-T20 tournament key but not enough to revive Windies cricket, says Skerritt
During his tenure, Rousseau was forced to grapple with several controversies, even as on-the-field performances declined. He oversaw the controversial 1998 tour of South Africa which was nearly boycotted by a player's strike, and was forced to fly to London to meet with players in order to rescue the tour.
That same year, the board copped heavy criticism after the first Test against England at Sabina Park here was abandoned after 62 balls due to a dangerous pitch.
Skerritt's controversial sacking as team manager in 2001 also precipitated a chain of events which led to Rousseau's resignation.
He was replaced by prominent Barbadian and legendary former West Indies fast bowler, Sir Wes Hall.