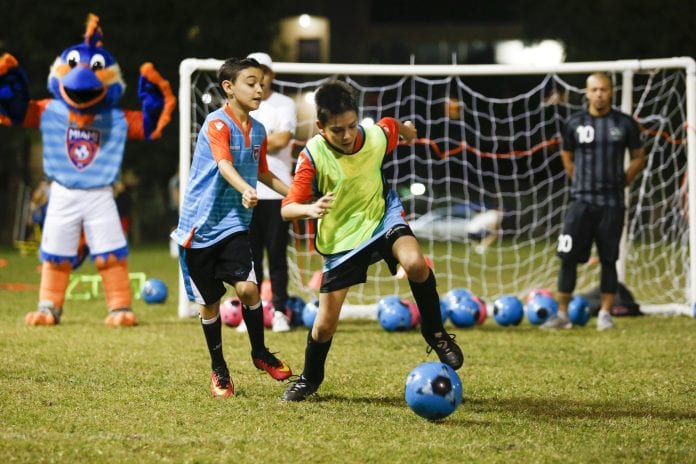 For many young kids getting the call from a former superstar sounds like something you experience playing the video game FIFA, but for four young boys from Lauderhill it wasn't a movie sequence during a video game it was the real deal.  
"I was very surprised!" Ayden McFarland, 9, who out of thousands of youth soccer athletes that tried for the new Inter Miami Football club received a scholarship to attend the club's development academy.  
Joshua Grant, Khalil A Hines and Guy B Menues were others that emerged from thousands taking it one step closer to playing professional soccer in front of thousands, but Mayor Ken Thurston "I expect them to do well and I want them to remember that the first thing to do is to get a good education." 
Trying out for a professional team is something many athletes dream of, but how did these young Athletes from Lauderhill stand out from the rest? The answer getting the necessary advice from a former professional footballer.    
"I tell them to keep it simple to be a team player and move a lot." Coach Woody Lomara  
Inter Miami's youth director made it clear that they won't stop looking for talent as the club continues to push efforts on building a relation between the club and the city of Lauderhill. 
"I think this area has a rich tradition of rich tradition of good player. We are familiar with the talent of the players coming from this area, the background that they have, you know Jamaican players [and] Haitian players are very talented." 
Even if this won't add bodies to the seats to the upcoming season for Inter Miami, many see this as a victory for the city of Lauderhill seeing the youth do more than be out on the streets. 
"It's a big day for the community of Lauderhill and what we've been trying to do here over the years. Our goal has been about the village and keeping our kids off the street and hopefully growing up and having a college education." said Keith Davis coach of Lauderhill Tigers.  
Here's to seeing the young athletes flourish more on the pitch in professional soccer.