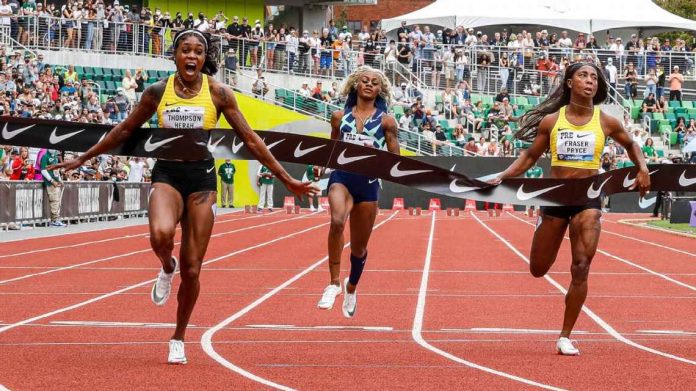 Reigning Olympic double sprint champion, Elaine Thompson-Herah, has placed Florence Griffith-Joyner's 33-year-old women's 100 metres world record squarely in her crosshairs, after clocking the second-fastest time in history last weekend.
The 29-year-old sprint queen stormed to an astonishing 10.54 seconds to win the Diamond League meet on Saturday at Hayward Field, crushing a high-quality field which included the likes of fellow Jamaicans Shelly-Ann Fraser-Pryce and Shericka Jackson, along with Côte d'Ivoire's Marie-Josée Ta Lou and American sensation Sha'Carri Richardson.
The late Griffith-Joyner, popularly known as Flo Jo, stunned the world with an incredible 10.49 at the United States trials ahead of the Seoul Olympics in 1988 but the mark has never been viewed as attainable until now.
"Yes [I can go after the world record] because I ran 10.61 and I ran 10.54 so that means that I am close of course," Thompson-Herah said.
"There's some more work to do so it's a target of course."
She continued: "I have to give God thanks that I crossed the line healthy. I was a little bit tired after the [Olympics] and didn't know I would come out here to get another PB. I am really excited and grateful at the same time."
Thompson-Herah has progressively lowered her personal best, clocking 10.61 seconds to win the 100 metres at the recent Tokyo Olympics, when she became the first woman to repeat as double sprint champion.
And Fraser-Pryce and Jackson, who claimed silver and bronze respectively in the 100 metres in Tokyo, also followed home Thompson-Herah on Saturday here to sweep the podium spots.
Thompson-Herah, who burst to prominence at the Rio Olympics in 2016, said the pressure from the quality competition on Saturday had played a key factor in her time.
"Honestly they pushed me to the line because I knew everyone was coming [hard] after that championships (Olympics)," she explained.
"They helped me to get that 10.5 and I am very grateful for those ladies because they ran their hearts out, so for me to go out there and win that race with a world lead and a PB, I'm really grateful. To all those ladies, thank you for helping me do that."
Saturday's Diamond League had been hyped as a showdown between the flamboyant Richardson who controversially missed the Tokyo showpiece due to a suspension, after testing positive for marijuana.
However, the 21-year-old Richardson finished last as Herah-Thompson emerged from a slowish start to reel in the leaders and sweep to the finish convincingly in the Pacific Northwest.
And with the World Championship scheduled for the same venue next year, Thompson-Herah believes last weekend's victory was good preparation.
"Normally people always talk about the track is fast or spikes are fast but also we have to put in the work because if I was not putting in the work, therefore I could not get the result," she stressed.
"But the track feels good. It's my first time competing here after the refurbishing of the track so it feels good to test it out before the World Championship."
CMC