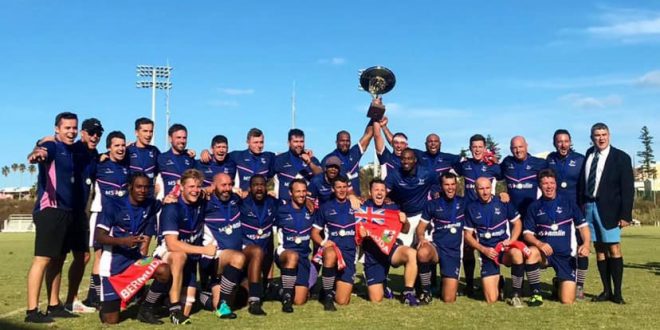 HAMILTON, Bermuda,  CMC – Bermuda have been crowned Caribbean champions for the first time in seven years after beating Guadeloupe 33-10 in the Rugby Americas North Championship final at the National Sports Centre's North Field on Saturday.
Bermuda led 14-0 at the break but then came under pressure as Guadeloupe reduced the deficit to four points with a penalty and a converted try before the home side forged clear again.
Alex Brown, who opened the scoring in the first minute, and Jamie Baum each scored two tries for Bermuda, who were also awarded a second-half penalty try.
Dan Cole converted four of the tries as Bermuda regained the title they last won when they beat Guyana 18-0 here in 2012.
Yann Guenec opened Guadeloupe's account with a 52nd-minute penalty and Alexandre Dagorn scored a try after stealing the ball on the halfway line, Guenec converting to reduce Bermuda's lead to a slender four points.
But the pressure was lifted when Bermuda was awarded a 64th-minute penalty try.
Bermuda's head coach Jamie Barnwell, who took over the post in January, was delighted with the victory.
"We set ourselves this goal in January and to get across the line is fantastic. The boys have done a great job and so obviously we're all very happy with that," he said.
"This is a really important milestone for the team. There wasn't any space for us not to win, we had to get a result to continue the trajectory we've been on and the boys did just that, it's been a great team effort.
Bermuda began their campaign with a 43-14 win over Jamaica in their opener here in March.
Barnwell's side had expected a daunting trip to Guyana, who were highly fancied to overcome Guadeloupe in their respective regional encounter.
However, with Guyana suffering a shock 19-5 defeat, Bermuda was handed the major boost of home advantage for Saturday's final.