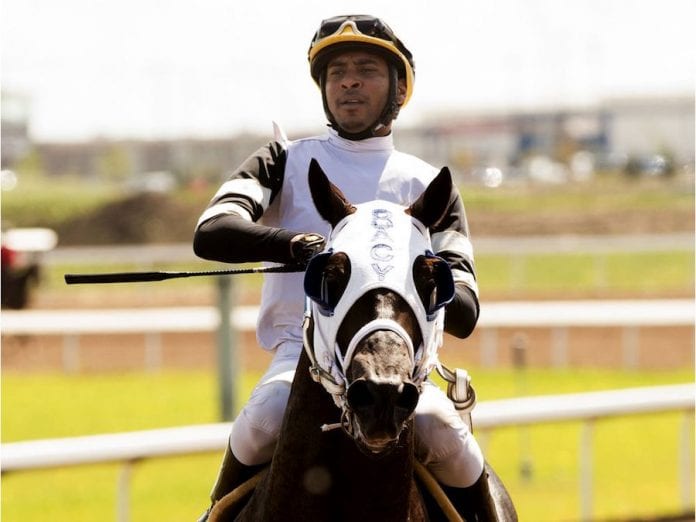 CALGARY, Canada, CMC – Reigning champion Rico Walcott rode three winners including the feature CAN$100,000 Freedom of the City Stakes at Century Downs on Saturday, to set up a thrilling finale to the jockeys champion on Sunday.
The 29-year-old Barbadian paired with 5-1 choice Sangria in the Freedom of the City in race seven over 7-½ furlongs to trounce the two-year-old fillies by a length in a time of one minute, 30.82 seconds.
Crucially, Walcott also won race four with Kicken West G and race five with Prince Afleet to move within one of championship leader Rigo Sarmiento on 18 wins, with a day left in the meet.
Jamaican Dane Nelson, who won just once on the 11-race card, lies third on 14 wins.
Barbadian Renaldo Cumberatch also featured prominently on the day's card when he combined with favourite Hidden Grace to win the co-feature $50 000 CTHS Sales Stakes in race 10, before returning to win the following race aboard 11-1 outsider Talkin' Bull.
And another Barbadian Damario Bynoe also grabbed a share of the headlines with a brace, winning back-to-back with favourite I Tricked My Ride in race eight before following up with 5-1 chance Texas Alley Kat in race nine.
Walcott was forced to wait until race four to notch his first win when he guided three-year-old bay gelding Kicken West G to a two-length win in a 6-½ furlong sprint for the three-year-old and upward maidens.
Longshot Emerald Canyon, with Jamaican Neville Stephenson aboard, produced the early fractions with Kicken West G half-length back before giving way at the three-eighths pole.
Kicken West G then held off a surge from second-placed Go Mama in the stretch to reach the wire comfortably.
Walcott followed up in a 3-½ furlong dash in race five, making all the running with bay gelding Prince Afleet to dismiss the two-year-old maidens by 2-¼ lengths.
His big win, however, came aboard the dark bay Sangria. Blushing Brooke showed early with Lil Miss Molly and Pearl of Knowledge in pursuit but Walcott brought Sangria from off the pace to grab the lead at the top of the stretch.
Near favourite Enchanted Lady chased desperately but Walcott held well with Sangria.