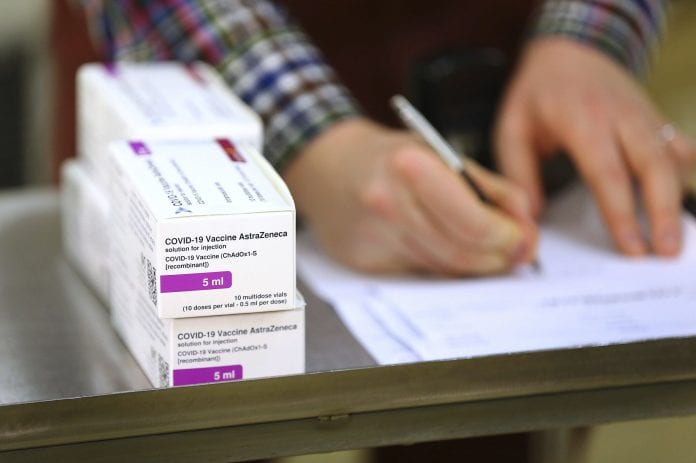 (AP) The United States will begin sharing its entire stock of AstraZeneca COVID-19 vaccines with the world once it clears federal safety reviews, with as many as 60 million doses expected to be available for export in the coming months.
The move greatly expands on the Biden administration's action last month to share about 4 million doses of the vaccine with Mexico and Canada. The AstraZeneca vaccine is widely in use around the world but has not yet been authorized by the U.S. Food and Drug Administration.
The U.S. has been under mounting pressure in recent weeks to share more of its vaccine supply with the world, as countries like India experience devastating surges of the virus and others struggle to access doses needed to protect their most vulnerable populations.
"Given the strong portfolio of vaccines that the U.S. already has and that have been authorized by the FDA, and given that the AstraZeneca vaccine is not authorized for use in the U.S., we do not need to use the AstraZeneca vaccine here during the next several months," said White House COVID-19 coordinator Jeff Zients. "Therefore the U.S. is looking at options to share the AstraZeneca doses with other countries as they become available."
The U.S. has yet to finalize where the AstraZeneca doses will go, Zients said. Neighbors Mexico and Canada have asked the Biden administration to share more doses, while dozens of other countries are looking to access supplies of the vaccine.
"We're in the planning process at this point in time," said White House press secretary Jen Psaki, when asked where the doses would go.
Following the announcement, Trinidad and Tobago Prime Minister and CARICOM Chairman, Dr Keith Rowley said he was looking to secure vaccines from the United States for the Caribbean region. 
A statement issued by the Office of the Prime Minister noted that Rowley wrote President Joe Biden on March 19, asking the US to share its surplus vaccines with the region. In response, President Biden confirmed his government's commitment to partnering with COVAX and other multinational institutions to ensure the equitable distribution of vaccines.
Rev Dr Karen Green, vice-chair of the Democratic Party in Florida, who is Jamaican; Jamaica's ambassador to Washington, Audrey Marks, and consul general in Miami, Oliver Mair, have also been involved in talks to secure vaccines for Jamaica.