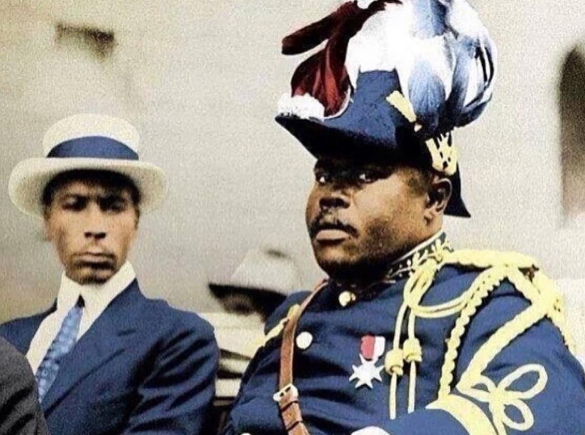 Although Jamaican Marcus Mosiah Garvey has not made recent news, for many Caribbean nationals his relevance as a newsmaker is perennial for his role in Caribbean-American Heritage.
Migrating to and residing in Harlem, New York in the 1920s, he stoked the embers of Black Power and fueled the ambitions of Caribbean and other black immigrants in the U.S. with his bold philosophy expressed in the words "Up, up, you mighty race! You can accomplish what you will."
This Jamaican stalwart achieved great things in the United States, and elsewhere. Even though he was officially titled a Jamaican hero, his outstanding achievements makes him worthy of being a Caribbean American hero as well.
Garvey was born in St. Ann's Bay, Jamaica in 1887 and was one of 11 children of a stones-man and a household servant. By age 14, Garvey went off to Jamaica's capital city, Kingston, where he worked in a print shop. It was there that he would get his first taste of activism, as he joined the labor union for print tradesmen.
By 1912, Garvey settled in London, England after spending a short stint in Central America. There he was able to attend the University of London's Birkbeck College—a right that was not given to blacks in the U.S. at the time. At university, he studied law and philosophy, worked for a Pan-Africanism newspaper, and began leading public discourse at Speakers' Corner in Hyde Park.
In 1914, Garvey ventured back home to Jamaica and started the Universal Negro Improvement Association. He also began corresponding with African-American leader, author, activist and former slave, Booker T. Washington. Surely inspired by Washington's work, two years later, Garvey travelled to the U.S. to begin lecturing to the black community to share his "separate but equal" message, questioning U.S. democracy and oppression of people of color. Garvey ended up speaking in 38 cities throughout the U.S.
Notably, in 1917, in Harlem, he formed the first chapter of the Universal Negro Improvement Association (UNIA), and launched the Negro World newspaper. By 1919, the UNIA's membership grew to over four million members. That year, under the auspices of the UNIA, Garvey would lead the establishment of the Black Star Line shipping company. Soon the company would purchase its first ship, which would be known as the S.S. Frederick Douglass.
The Black Star Line then went on to form the African Redemption Liberia program, which sought to create a nation in Africa, for slaves, their descendants and African Americans as a whole. Due to this and his other dealings, Garvey became a target of the U.S. government, who began investigating him for mail fraud in connection with the Black Star Line. In 1923, Garvey lost a trial on the matter, and was sentenced to five years in prison. While serving his sentence, he wrote "First Message to the Negroes of the World from Atlanta Prison," which became a famous paper.
"After my enemies are satisfied, in life or death I shall come back to you to serve even as I have served before. In life I shall be the same; in death I shall be a terror to the foes of Negro liberty. If death has power, then count on me in death to be the real Marcus Garvey I would like to be. If I may come in an earthquake, or a cyclone, or plague, or pestilence, or as God would have me, then be assured that I shall never desert you and make your enemies triumph over you," Garvey wrote in that paper.
It is said that Garvey thought that the investigation and his consequential imprisonment was a backlash from the Jewish community, after he agreed to meet with the Grand Wizard of the Ku Klux Klan—an organization that he believed shared his views on segregation.
A 1921 quote from a speech given to UNIA members sums up Garvey's views on the rights of African Americans and the African diaspora. In it he says, "If you want liberty you yourselves must strike the blow. If you must be free, you must become so through your own effort … Until you produce what the white man has produced you will not be his equal."
"We shall march out, yes, as black American citizens, as black British subjects, as black French citizens, as black Italians or as black Spaniards, but we shall march out with a greater loyalty, the loyalty of race. We shall march out in answer to the cry of our fathers, who cry out to us for the redemption of our own country, our motherland, Africa," Garvey said, summing up his singular cause of the redemption of Africans at home and abroad. For him, self-reliance, redemption and a strong sense of purpose were cornerstones of black emancipation. He was also a staunch advocate for black entrepreneurship, and lived as an example for aspirational black business owners through his many projects.
As the leader of the Pan-Africanism movement and civil rights activist, Garvey sought to unify and connect people of African descent in the U.S. and worldwide. For this, the U.S. was his base, where he founded several wildly successful mega-organizations. As an advocate for people of African descent living and operating separately, but with equal rights, Garvey was a leader in the U.S. who stretched his influence across the seas and throughout the world.
Garvey died in London England in 1940. In 1964 his body was brought back to Jamaica. The government designated him as the Jamaica's first National Hero and reinterred his body at a shrine in the National Heroes Park, Kingston.
His work is still relevant, widely studied, and the basis of much black nationalist work globally. For this, he is not only a Jamaican hero but indeed a Caribbean-American hero, and a fixture in Caribbean-American heritage.