Tropical Storm Isaias is forecast to approach the east coast of Florida within the next 48 hours as Puerto Rico battles with life-threatening flash flooding and gusty winds from the storm.
Multiple power outages were reported across Puerto Rico last night, with at least 96,000 customers without electricity.
Tropical Storm Isaias is packing 60 mph sustained winds as of 11 a.m. today and is about 100 miles southwest of Punta Cana, Dominican Republic, the National Hurricane Center said.
Isaías' center will make landfall today in the Dominican Republic and be in the Southeastern Bahamas by early Friday. The storm will move over the central Bahamas Friday afternoon and be near the northwestern Bahamas or south Florida late Friday evening.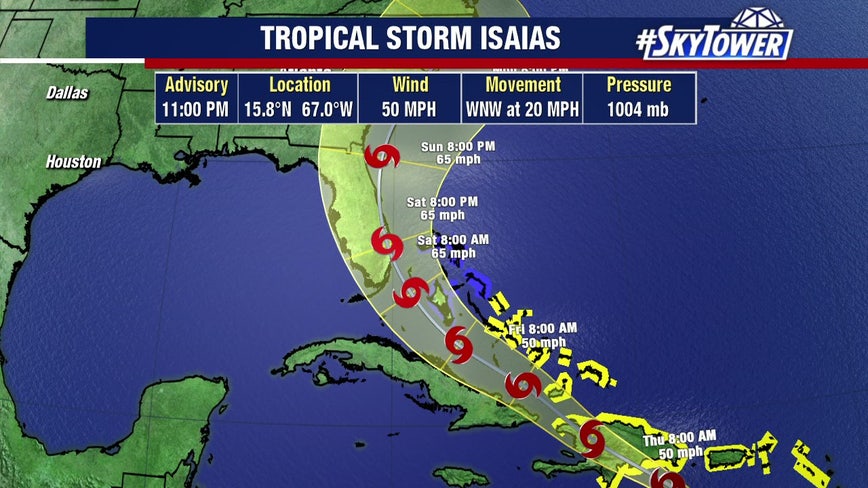 All state-supported COVID-19 testing sites in Florida will close as of 5 PM on Thursday due to the threat of the storm. The sites will remain closed until they are safe to reopen, with all sites anticipated to be reopened at the latest by 8 a.m., Wednesday, August 5.
Tropical Storm Isaias is the earliest storm to begin with an "I" on record. The previous record was set on August 7, 2005, part of the busiest season to date.
- Advertisement -

So far this year, Cristobal, Danielle, Edouard, Fay, Gert and Hanna also set records for being the earliest named Atlantic storm for their alphabetic order.