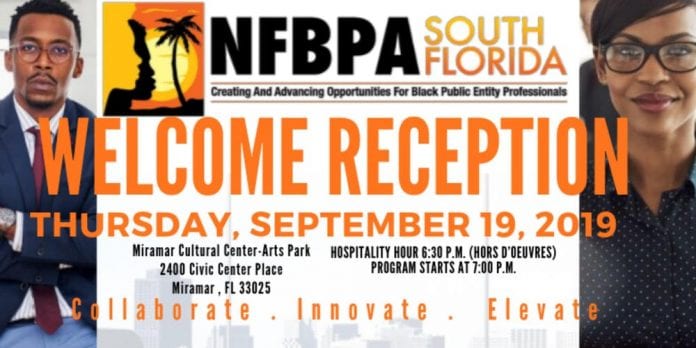 MIRAMAR FL – The National Forum for Black Public Administrators (NFBPA) honors the men and women in and around the NFBPA who believe in the power of collaboration, innovation and elevation.
On September 19, 2019 beginning at 6:30 PM, in Miramar, Florida, the organization invites public service professionals and stakeholders to participate in their Welcome Reception featuring keynote speaker Dr. Rosalind Osgood. Participants will enjoy the opportunity to network with other chapter members, and learn how certain leadership strategies are associated with positive outcomes.
Attendees are encouraged to interact directly with the highlighted administrators to learn more about what motivates them in their chapter.
The NFBPA of South Florida has three key initiatives: collaborate, innovate and elevate. Through the networking reception, the NFBPA showcases the current talent of Black public administrators in Palm Beach, Broward and Miami-Dade areas Emphasis is placed on honoring the work and achievements of the past year's newly promoted, appointed and elected officials. It is important to introduce the people and philosophies behind public service leadership.
The National Forum for Black Public Administrators aims to create a pipeline of leaders with a philosophy for achieving excellence in public service Engaging both the public and current public service employees is key to supplying that pipeline. This event initiates the collaboration process, and all interested persons are encouraged to seek additional information and purchase tickets through the NFBPA's site.
The National Forum for Black Public Administrators (NFBPA) is a professional membership organization founded in 1983. The organization works actively to advancement Black leadership in the public sector by fostering networking and promotional activities. The integration of expertise and best practices occurs through intensive training and professional development programs. Key contributors to the success of these programs are the over 2,700 members across 350 jurisdictions in 40 states in the U.S.
Membership with the NFBPA provides valuable opportunities to contribute to the network of excellence in public service.