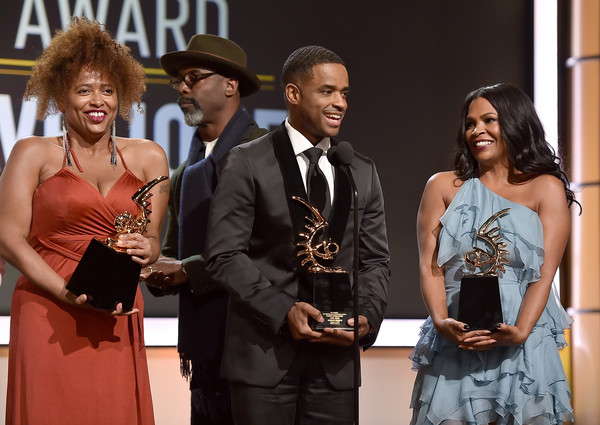 The 21st American Black Film Festival (ABFF) is set to host its annual Community Day celebration in partnership with the Greater Miami Convention and Visitors Bureau (GMCVB), to coincide with Miami Film Month.
The celebration will take place on Sunday, June 18, at the Little Haiti Cultural Complex (212 NE 59th Terrace, Miami, Fl 33137) from 3pm-10pm. The day includes a film screenings, a panel discussion and Q&A and is free and open to the public.
This year, the two feature films being highlighted are Step, courtesy of Fox Searchlight and Downsized, courtesy of TV One.
Step is the true-life story of a girls' high-school step team against the background of the heart of Baltimore. These young women learn to laugh, love and thrive – on and off the stage – even when the world seems to work against them. Empowered by their teachers, teammates, counselors, coaches and families, they chase their ultimate dreams: to win a step championship and to be accepted into college. This all female school is reshaping the futures of its students' lives by making it their goal to have every member of their senior class accepted to and graduate from college, many of whom will be the first in their family to do so. Deeply insightful and emotionally inspiring, STEP embodies the true meaning of sisterhood through a story of courageous young women worth cheering for. Directed by Amanda Lipitz; Produced by Amanda Lipitz, Steven Cantor; Featuring Blessin Giraldo, Cori Grainger, Tayla Solomon, Gari McIntyre and Paula Dofat.
TV One's newest original movie, Downsized, centers on Ebony (Nicole Ari Parker) and Michael (Boris Kodjoe), who were forced into a modern "shotgun" wedding after becoming teenaged parents, and putting their personal goals on hold in order to support their family. Amazingly, the two high school sweethearts managed to overcome the odds and establish a seemingly ideal life for themselves but after years of professional success take a toll on Ebony and Michael, the family begins an unconventional adventure to restore the faith, hope, and trust that initially brought them together. The film also stars Alexus Lapri Geier as Madison, Racquel Bianca John as Michelle, Isaiah John as Mike, Jr. and Tia Hendricks as Malaysia. "Downsized" is written by Michelle McKissick (2016 ABFF Screenplay Finalist) and is directed by Rhonda Baraka. It is also produced for TV One by Swirl Films and is executive produced by Eric Tomosunas.
As a special treat,  the students from  Florida Film House's (FFH)  1st Take Youth Program will showcase Prodigal Son, Full Circle and Rumors and Regrets. There will be a Q & A session with the students hosted by actor Stacy Ann Rose from HBO's Ballers. 
The local community continues to play a pivitol role in the narrative of the ABFF. For the first time, students from Urgent Inc. and the Overtown Youth Center will have an opportunity to be mentored and work with the festival to gain experience and earn community service credit.
"Community Day is one of the ABFF's favorite events. It allows us an opportunity to bring the most dynamic films that we screen at ABFF to the community. We are excited to have the local students from FFH's 1st Take Youth Film program be a part of the festival this year," says Jeff Friday, CEO of ABFF Ventures.
"It is important that we showcase all of Miami to our visitors and convention delegates.  We are excited about the community day list of activities scheduled at the Little Haiti Cultural Center," said Connie Kinnard, Greater Miami Convention and Visitors Bureau's Vice President, Multicultural Tourism & Development. "We commend Jeff Friday and the leadership team at ABFF for their commitment to Miami, by actually extending the festival to bring screenings and celebrity buzz into our Heritage communities."