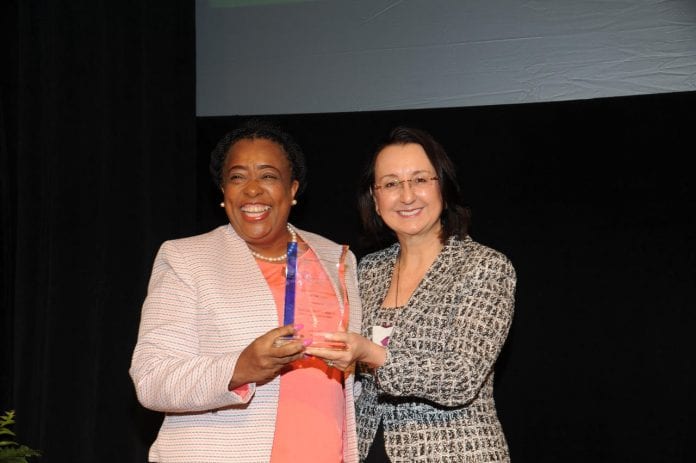 Executive Housekeeper at The Jamaica Pegasus Hotel, Marcia Morris, has been named the Caribbean's top "Supervisor of The Year" by the Caribbean Hotel and Tourism Association (CHTA). The award was presented on Friday, June 2, 2017, at the Caribbean Hospitality Industry Exchange Forum (CHIEF), held June 2–4, 2017, at the Hyatt Regency in Miami.
Awarded annually since 2015, CHIEF Awards shine a spotlight on the Caribbean Hospitality and Tourism industry's tried and true best practices, and the Caribbean businesses and people that masterfully implement them for the betterment of the industry and the region.
"This is a huge and very much deserved honor for an integral and truly inspirational member of our team," said Nicola Madden-Greig, Group Director of Marketing & Sales for The Courtleigh Hotel Group. "A no-nonsense manager, Ms. Morris is always the first to arrive at work, always energetic, and full of ideas to improve operations and the overall guest experience. At the same time, she creates a warm family atmosphere among the staff, continually checking in on sick colleagues, accommodating schedule changes for staff pursuing educational goals, and organizing staff parties and community outings. Ms. Morris truly does it all for us. We couldn't be happier to see her receive the recognition she so richly deserves."
A native of Linstead, St. Catherine, Morris began her career in hospitality in 1996 at the Ocean Beach Hotel in Montauk, New York. Returning to Jamaica a year later, she joined the team at The Courtleigh Hotel & Suites working as a Linen Attendant. From there, her career advanced quickly as Morris attained progressively more senior promotions at The Courtleigh and The Knutsford Court Hotel before finally ascending to the Executive Housekeeper position at The Jamaica Pegasus in 2012.
During her tenure at The Jamaica Pegasus, Morris has held the distinction of hosting the top dignitaries and celebrities that have visited Jamaica's capital in recent years. Royal heads of state, Presidents, Prime Ministers, corporate leaders, musicians, actors, and other VIP's have all commended her for providing exemplary service.
Morris touted the support of her great team and that of the management and ownership of The Courtleigh Hotel Group, particularly Managing Director Kevin Hendrickson, who, she says, "always believed in me and gave me the tools and opportunity to grow within the company."
Named one of "The Top 52 Places to Go in 2017" by The New York Times, and recently designated as a "Creative City of Music" by UNESCO, Kingston shines among the most dynamic, exciting, and culturally significant cities in the Americas.