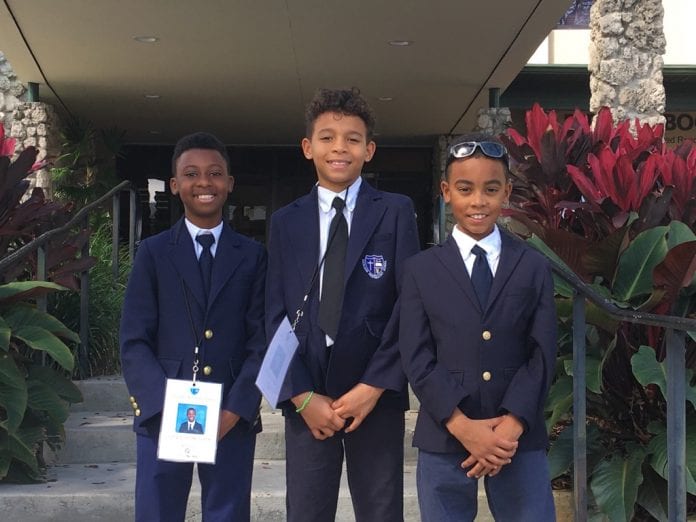 The flag of the Caribbean was again held high when a number of students from the Excelsior Arts Preparatory copped first place finishes in the recently concluded Association of Christian Schools International South Florida Spelling competition.
Students from the school, which is based in the Broward City of Tamarac, grabbed five out of seven first place finishes, while two others finished second and two more came in fourth. This from a pool of more than 100 young spellers.
The competition was held across the Broward, Miami-Dade, Palm Beach and Jupiter Counties.
There were two categories – the lower group which included students from grades one to four and the upper group including students from grade five to eight.
Fritz Desir, was the champion speller for grade one across all counties, in grade two Jasmine Mahabeer came up tops, while Tanashi Deshommes, Khalfani Mullins and Ce'anni Hinds were winners in grades three, four and five respectively.
In grades six and seven Malaika Crawford and Whytney Boothe were second place finishers while Ashley Smith and Aryhel McKay were fourth place finishers in grades six and seven.
The students were either born in the Caribbean or have Caribbean-born parents.
Their achievement comes on the heels of outstanding performances by students from the Broward Public Schools who gave an impressive showing at the Broward County Public Schools (BCPS) debate students by winning six state championship titles at the Florida Forensics League State Tournament, in Gulf Breeze, Florida.
The debaters came up tops out of a pool of more than 600 students from public and private high schools across the state. In addition to winning the six championship titles, BCPS students ranked among the best in the state in numerous other categories.