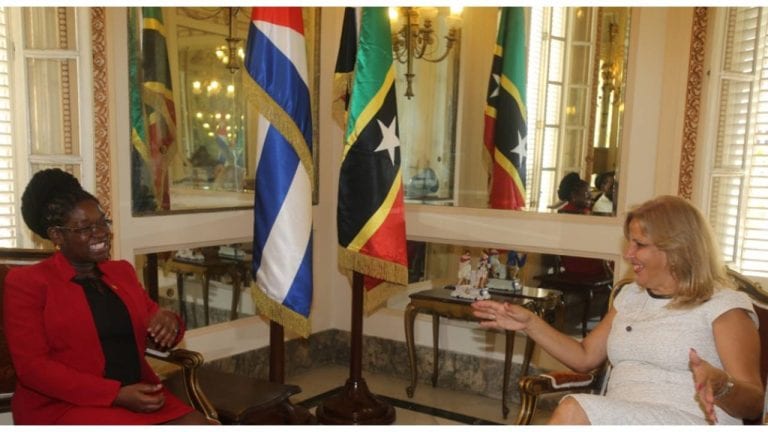 The Caribbean nation of St. Kitts and Nevis has appointed and presented Ambassador Verna Mills, the twin island's first female ambassador to Cuba.
Ambassador Verna Mills, the country's Ambassador to the Republic of Cuba, has reiterated Prime Minister Dr. Timothy Harris' commitment to strengthening the relationship between St. Kitts and Nevis, the Caribbean twin island federation, and Cuba.
Presented credentials
Mills, made the statement as she recently presented her credentials to Cuba's Vice President of the Council of State, Gladys Bejerano Portela at the Revolution Square in Havana, Cuba.
Mills, on behalf of the Government of St. Kitts and Nevis also expressed her condolences for the loss of lives and the devastation caused by the passage of Hurricane Irma on September 9, and wished the Cuban people a speedy recovery to normalcy.
The Ambassador also expressed her personal condolences on the passing of the Commander in Chief, Fidel Castro who she referred to as a towering international figure, and one whose legacy will forever live on.
Personally benefited from Fidel
Mills stated that she personally was able to benefit from Fidel Castro's vision having studied in Cuba from 1999 to 2005.
She also thanked the Government and people of Cuba for their continued support. She highlighted the important contributions Cubans have made to the development of St. Kitts and Nevis, particularly in the education and health sectors.
Mills is the first female Ambassador, and the second resident Ambassador accredited to the Republic of Cuba by the St. Kitts and Nevis government.
The Federation of Saint Kitts and Nevis, also known as the Federation of Saint Christopher and Nevis, is located in the Caribbean's Leeward Islands. St. Kitts and Nevis is a member of CARICOM.  For more information on St. Kitts and Nevis, visit their official website: https://www.gov.kn/
See links below for recent articles on St. Kitts and Nevis:
St Kitts/Nevis Opposition leader urges PM to "move with haste" to help Dominica