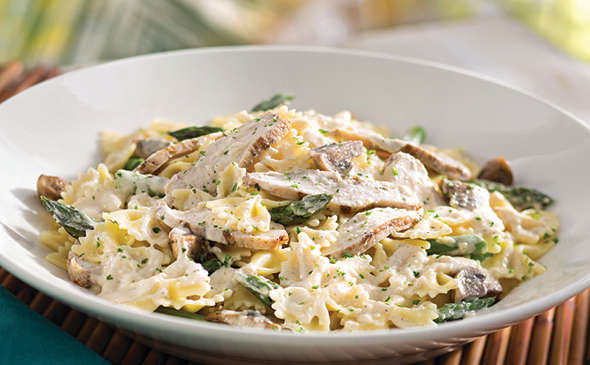 Have you ever gone to Bahama Breeze and fell in love with their jerk chicken pasta? Well here is a copycat recipe that is said to closely mock the dish served at the popular restaurant chain. This recipe can be be modified based on the level of Caribbean spice one would like to add to the dish.
What you'll need:
4 boneless chicken breasts or tenders
½ cup of butter
4-5 crushed garlic cloves
1 cup of half-and-half
½ cup chicken broth
1 teaspoon cornstarch
1 teaspoon of herbs of your choice (rosemary or marjoram or oregano)
1 tablespoon of cayenne pepper
½ talk of asparagus
8 ounces of slice mushrooms
3 tablespoons of crushed parsley
Salt and pepper to taste
8 ounces of bow-tie pasta
What to do:
Melt butter in skillet over medium heat, add garlic.
When garlic becomes fragrant, add cayenne pepper and chicken, increase heat.
Cook chicken to preferred tenderness; remove from pan, leaving the garlic, butter, cayenne mix.
In a separate deep pan, fill with ¼ full of water
Place drainer on top of the pan, add asparagus, cover and steam for 5-10 minutes
In a separate pan, cook bowtie noodles according to directions on the box and set aside.
In a cup, stir together half-and-half, chicken broth, and corn starch, pour into chicken.
Bring to a boil and reduce heat; simmer for 3 minutes with constant stirring
Stir in parsley, herbs, mushrooms, and asparagus for 3 to 5 minutes
Add chicken to heat through
Add pasta and toss.
Serve to hungry friends and family.