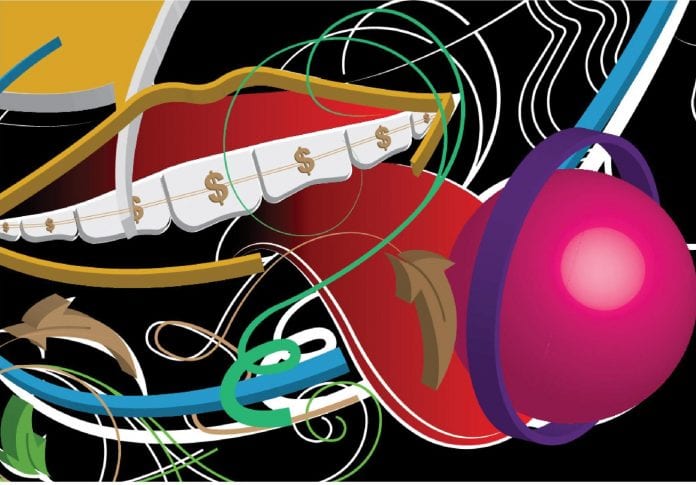 KINGSTON, Jamaica – A country world-famous for reggae and tourism, Jamaica has produced its share of outstanding artisans, including sculptor Edna Manley and the painter Albert Huie. Young artist Lawrence L. Deacon is determined to join that outstanding list but admits getting there isn't easy.
The 24-year-old artist's latest work, Waves & Pain, is an abstract, autobiographical painting currently available on wallpaper.
"Waves & Pain is an expression of my struggles and triumphs as an artist. As creative director and illustrator, I create from my experiences to reflect my inner-most feelings, desires, and challenges," Deacon said. "You can expect to find subliminal messages beneath the surface of my drawings. My truest darkest and brightest thoughts only flow better when I sit down and take flight on white paper."
Though he did a semester at the Edna Manley College of the Visual and Performing Arts in Kingston, Jamaica's capital, Deacon is largely self-taught. In recent years, he has carved a niche for himself designing album covers and posters for top-flight dancehall/reggae acts like Koffee and Chronixx.
Unlike his famous music counterparts, Deacon has found it difficult securing the proper legal representation and sound management he believes will ensure career growth.
As he mulled those obstacles, he conceived Waves & Pain.
"It took me two months to finish as I was creating it while experiencing these very things, it was me just drawing to get my truest thoughts and ideas out, it's like a documentary on my life," he explained. "Observing and experiencing everything it was really challenging putting everything I feel on paper. Especially since I wanted to illustrate accurately my emotions, it took some time."
The Jamaican arts community has always been close-knit. Making a living from their work has been a challenge for most of them; the best known including Manley, Huie, Barry Watson and Christopher Gonzalez (sculptor of the controversial Bob Marley statue) did well financially through private commissions.
Raised in Montego Bay, Jamaica, Deacon is from a working-class background. Since 2015 when he designed a logo for EDM artiste Alejandra Santana, he has pitched his Delawness brand through social media.
Most of his assignments including for singers Koffee, Chronixx and Jesse Royal, come from referrals.
Lawrence L. Deacon debuted Delawness at an exhibition in his hometown in 2018. He plans to officially release Waves & Pain in a similar medium, possibly this summer.