The Pompano Beach Amphitheater rocked as Billy Ocean and Taylor Dane brought the house down with superb performances that left the audience spellbound and wanting for more.
At exactly 9:33 pm when Billy Ocean entered the stage it was to hoots of approval from the well-behaved audience. He did not disappoint.
Decked in an all-white suit, the veteran crooner slowly warmed to his audience as he opened with a catchy ballad and a reggae influenced offering. From then on the tempo rose and kept rising.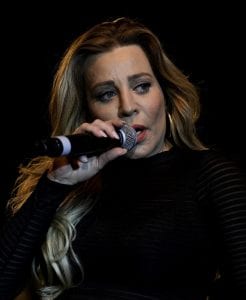 Taylor Dane…was the perfect opening act
From the moment Billy Ocean belted out of the opening strains of Nights (Feel Like Getting Down) the real show began. The audience sang along danced, pranced and let out shouts and whistles of approval as Ocean sailed smoothly through his catalogue of hits.
Suddenly, There'll Be Sad Songs, Lover Boy, When the Going Gets Tough, and Caribbean Queen flowed easily off his lips and his adoring fans just lapped it up as he sauntered about the stage, all the while bearing a broad smile.
A significant feature of Billy Ocean's performance was when he took time out to inform the audience that he had a new album on the way which was a tribute to great entertainers who were no longer alive. He gave them a sample of the work as he performed Sam Cooke's Change Gonna Come and Bob Marley's No Woman No Cry.
After a more than 90-minute set, the audience unwillingly let Billy Ocean go.
Taylor Dayne was the opening act of the night and she set the tone for the evening.
Taylor Dayne exhibited a great command of the stage and interacted well with her audience as she sang her well known hits and threw in a few renditions for good measure. Taylor Dane's performance was even more memorable because of the fact that despite being in the business for more than three decades, she seemed to have lost none of her youthful verve and girlish looks.
It was truly One of Them Nights when the crowd got down with Billy Ocean and Taylor Dayne.
Click here to view a video of Billy Ocean at the Pompano Beach Ampitheater:
<iframe src="https://www.facebook.com/plugins/video.php?href=https%3A%2F%2Fwww.facebook.com%2Fkay.renz.3%2Fvideos%2F1239821826072413%2F&show_text=0&width=560" width="560″ height="315″ style="border:none;overflow:hidden" scrolling="no" frameborder="0″ allowTransparency="true" allowFullScreen="true"></iframe>