The annual Miami Carnival was considered a great, colorful, enjoyable success.
By Dr. Mary
Miami Carnival 33 was a complete success. In the words of Marc, a reveler, "It was amazing for me to see how the music brings all the Caribbean islands together, what togetherness. Anytime people can experience culture it's a good thing. It's like one big togetherness tent."
A Miami premier cultural festival
Miami Carnival ended on October 8 at the Miami-Dade County Fairgrounds. According to a press release from the Miami Carnival team, "Miami Carnival is Mas, Miami Carnival is Steel Pans, Miami Carnival is Culture, Miami Carnival is community, Miami Carnival is Heritage, a kaleidoscope of Caribbean cultures under one umbrella. It is one of Miami's premier cultural festivals that captures the spirit, passion, and essence of the Caribbean-American community."
It lived up to that billing and more.
There were several events leading up to the big day including Junior Carnival, Fantastic Friday and Jouvert.
Big finale
Last Sunday was the big finale with Haitian superstar Wyclef Jean headlining the party.
There appeared to be one million people at the Fairgrounds; spectators, carnival participants, masqueraders, staff, artist, police and volunteers. Everyone appeared to be having a good time with many waving their respective island flags.
Michelle from New York said, "I attend every year, all my life. I like the chance to embrace my culture, to be in touch with it. I go all over experiencing different Carnivals." Hagan, a masquerader said, "This is my seventh year, I do it because I love it, it's like Christmas."
More elaborate costumes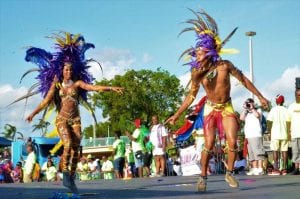 The costumes appeared to be more elaborate this year with colorful sequins and feathers. There were over 15
Masquerade bands on Sunday. They competed for the Miami Carnival Band of The Year title and were judged on visual impact, creativity, authenticity, craftsmanship, relation to the theme and portability. Sticks N Stones won the Panorama costume section.
Winner of the Masquerade segment was scheduled to be announced October 12.
Top soca artists
Some of the top soca artists were on show including MX Prime and Ultimate Rejects, Karma, Ravi B &Neisha B, Shurwayne Winchester, Terri Lyons, Lead Pipe & Saddis, Edwin Yearwood, Yankey Boy, Marz Ville, Julien Believe, Scrappy, Asten Isaac, Rudy Live, Burning Flames, Tian Winters, Menace, Rupee and TNT Prison Band.
But the highlight was Wyclef, former head of The Fugees who was born in Haiti and raised in the Little Haiti community of Miami.