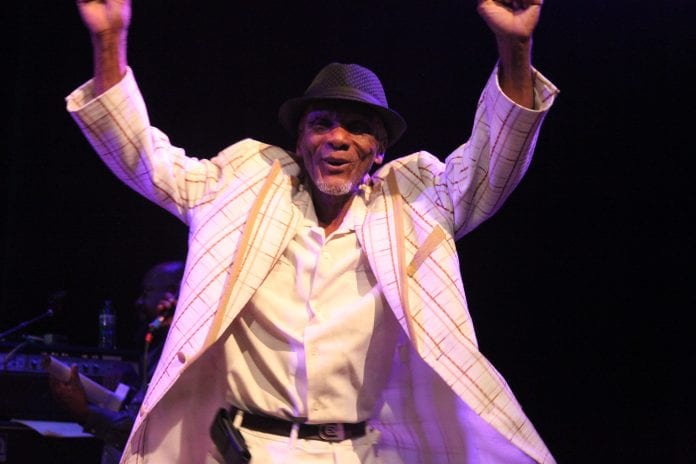 by Howard Campbell
This week the Caribbean National Weekly salutes veteran Jamaican singer Eric ' Monty ' Morris.
Eric 'Monty' Morris has never been one to hog the limelight. One of reggae's pioneers, he has earned that title through a number of outstanding songs.
The diminutive Morris, who lives in South Florida, recorded a number of classic sides over 50 years ago such as Oil In My Lamp, Sammy Dead, Humpty Dumpty and Wings Of A Dove.
Most of his hits were recorded in the ska era of the early 1960s.
His contemporaries include Derrick Morgan, Prince Buster, Justin Hinds and super band The Skatalites.
Monty had a significant rocksteady hit with Say What You Say, which was covered during the 1970s by none other than Dennis Brown.
Began recording in early 1960s
Monty began recording in the early 1960s for Prince Buster's Voice Of The People label. He also cut several songs for Byron Lee at
Federal Records, and i 1964 was part of a Jamaican delegation (with Millie Small and Jimmy Cliff) that went to the World's Fair in New York.
But while Small and Cliff enjoyed worldwide fame, Morris made little impact outside of Jamaica. By the early 1970s, he was largely forgotten, gave up music and moved to the United States.
When Monty appeared on the popular Heineken Startime show in 1998, it was the first time he performed in his native Kingston, Jamaica in 20 years.
Never fails to impress
Now 74, he never fails to impress on stage as witnessed at last year's Grace Jamaican Jerk Festival at Markham Park in Sunrise, Florida.
Eric 'Monty' Morris is scheduled to perform on the Genuine Gold concert, which takes place November 4 at Coral Springs Center for the Arts.
Click the link to see previous reggae artist salute by the Caribbean National Weekly: Salute to Peter Tosh