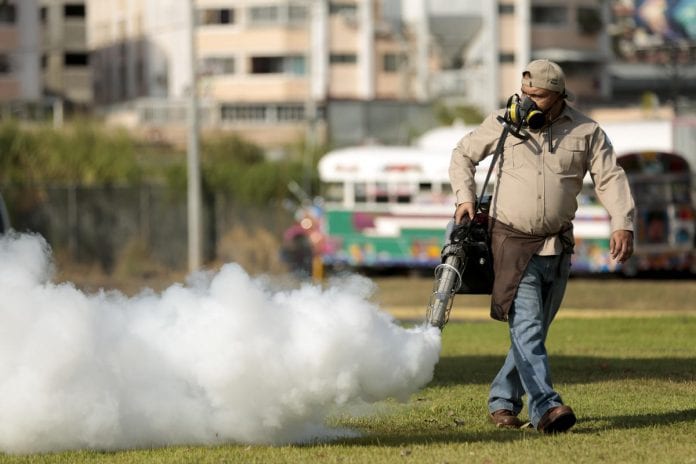 South Florida schools opens smoothly, but plenty mosquito spray in Miami-Dade
From all accounts, the opening of public schools in Broward and Miami-Dade County went smoothly on Monday. Broward County Supervisor of Schools Robert Runcie referred to the day "as a pretty could start" to the school year. While Alberto Carvalho, Miami-Dade's school superintendent expressed similar sentiments, the threat of the Zika virus was ever present in that county.
Marlene Moses, who resides on the outskirts of Wynwood, the area with the largest outbreak of locally contracted Zika, described the days efore school opened, and Monday, as "pretty weird," Moses adhered to warnings from the school district and purchased long sleeves blouses for her girls to wear to school to avoid bites from Zika carrying mosquitoes.  "In addition to the long sleeves, which the middle school students hate, I sprayed them liberally with Off, the mosquito spray."
"Mosquito spray is a major scholastic necessity for now," said Bianca Perez of the Florida Department of Health (FDH). "It's important everything be done to prevent students from being contaminated by mosquitoes."
At some schools in the region the FDH placed representatives in booths at the entrances offering cans of mosquito spray, repellent towelettes and printed information on the Zika virus to parents.
Students were not allowed to take the repellent into the school compounds, but at several schools especially those in and close to Miami Beach, where the Zika outbreak is also evident, and Wynwood, parents and guardians walked with, or collected the spray cans from the FHD and sprayed their kids before they entered the school compounds.
Superintendent Carvalho actively participated in the Zika preventative measures evidenced on Monday.  He and other district officials attended a class at the Jose de Diego Middle School just outside of Wynwood where students were given lessons on the dangers of mosquitoes,  and  specifics about the Zika virus.
Haitian-American Celeste Josephe said her son Claude was in the class when Carvalho was present, and the school chief explained to him and the other students what some of the symptoms of Zika were.
Josephe admitted to not being "too concerned" about her three school-aged children getting Zika. "I'm confident the schools are doing everything possible to protect students.  They have been advising parents what to do and expect. I'm more concerned about me getting Zika, as my husband and I are planning a new baby. We going to postpone that," she said with a smile.
On Monday, Carvalho emphasized that from the preparation made at the schools to protect students against mosquitoes, including providing some parents with long-sleeved uniforms and mosquito repellents, the schools were "the safest and best places" for students to be.
The cost for Zika prevention measures in the Miami-Dade School District are being met by the district, but Carvalho said he expects the state to refund the district from emergency funds it will most likely provide to combat the Zika crisis.